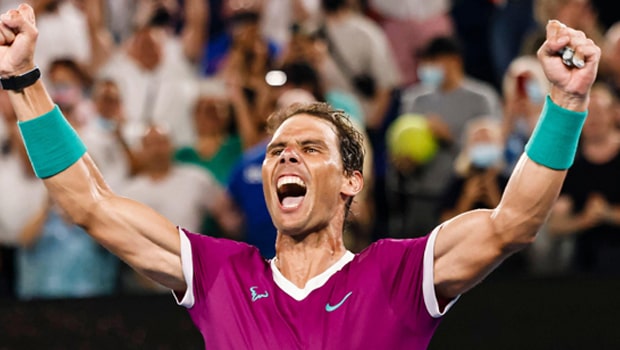 Rafael Nadal created history as he made a comeback to win the Australian Open against Daniil Medvedev to be the first player in the Men's Singles category to reach the milestone of 21 Grand Slam.
This was his second Australian Open title as he defeated the Russian 2-6, 6-7, 6-4, 6-4, 7-5 in a grueling encounter. He also became the first person in the Open Era to win an Australia Open final from two sets down. The Spaniard claimed this to be the biggest comeback of his career.
"If we put everything together, the scenario, the momentum, what means," Nadal said. "Yeah, without a doubt probably have been the biggest comeback of my tennis career."
Nadal has never left the court without fighting, hence when Medvedev had won the first two sets and was on the verge of sealing the game, he kept pushing. The Spaniard's exceptional never die attitude has once again created wonders as he scripted the biggest comeback of his career.
"In that moment, of course, situation have been critical," Nadal said. "But sport is unpredictable, no? If you fight till the end, normal thing is lose the match in straight sets after that situation. On the other hand, I had a big chance in the second, too, no?"
Nadal has lost close finals in Melbourne many times and he revealed how that was playing on the back of his mind. So he kept pushing until the game was almost in his pocket.
"I don't know. I was repeating to myself during the whole match, I lost a lot of times here having chances, sometimes I was a little bit unlucky," he added. "I just wanted to keep believing till the end, no? I just wanted to give me a chance."
The 35-year-old also admitted that there was quite a bit of luck involved when Medvedev failed to secure the break in the third set. He highlighted how luck had a part to play during his heartbreaks back in the 2012, 2014 and 2017 finals.
"That's what I did," Nadal said. "Just fight, just keep belief on trying to find a solution. Of course, I was lucky to save that moment. Yeah, have been a lot of moments that can decide the final like this, no? He has a big advantage."
"Tonight was for me 2012, 2017, 2014 with the injury, too," he added. "I have been in that position couple of times in my career here in Australia. Tonight have been unforgettable," he concluded.
It will be interesting to see what unfolds from here. Nadal was unsure whether he will be able to travel to Melbourne or not as he has been suffering from a foot injury and also recently had COVID. But for him to come to Melbourne and then win the Grand Slam title is simply sensational. Now with Roland Garros coming up, Nadal will be eager to continue the winning run.
Leave a comment