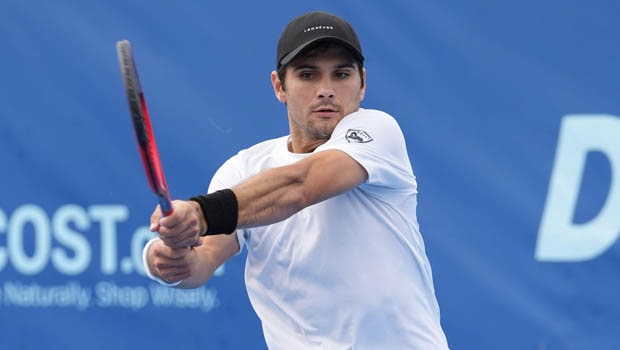 American Tennis player Marcos Giron reckons Rafael Nadal can do anything he wants on the court but he always makes the right decision. Nadal is well known for his smart shot selection and he always tries to make his way into the point.
The Spaniard recently played against Marcos Giron in the opening round of the Australian Open and defeated the American in straight sets by 6-1, 6-4, 6-2. Nadal has been in sublime form in 2022 and had entered the Australian Open after winning Melbourne Summer Set 1.
Giron said while talking to ATP Tennis Radio podcast, ​​"It was interesting because I've seen him play, obviously an insane amount of matches, throughout my whole life – you know, growing up playing tennis," Giron said. "But that being said, I was kind of surprised with his shot selection in the sense that, kind of when you play him, you feel that he can do anything that he wants on the court but he always makes the right decision."
"He's always able to choose a shot that [gets] him back in the point and gives him an opportunity," Giron continued. "He always – whenever there's a marginal opportunity – he always seems to take advantage of it. He wasn't just blasting winners – you see him in practice absolutely annihilating the ball and you know he has the ability to – but he doesn't play like that, he works his way into the point."
Nadal is known for his never-say-never attitude on the court and he keeps chasing the ball till the end. Giron added that Nadal takes advantage if the ball is short and gets himself into a good position.
"You think a shot's open and he gives himself time to get back into that point," Giron added. "As soon as you leave a ball a little shorter, he's very quick to take advtantage of it. And when he's on defense, he's always able to negotiate it. And like I said, if you leave the ball short, he takes advantage of it and next thing you know – five shots later you're behind the Melbourne sign and he's hitting a short forehand winner."
Nadal has got off to a fine start in 2022 as he has a 15-0 record and has already won three titles in the season. The Spaniard will now be seen in action in Indian Wells.
Leave a comment