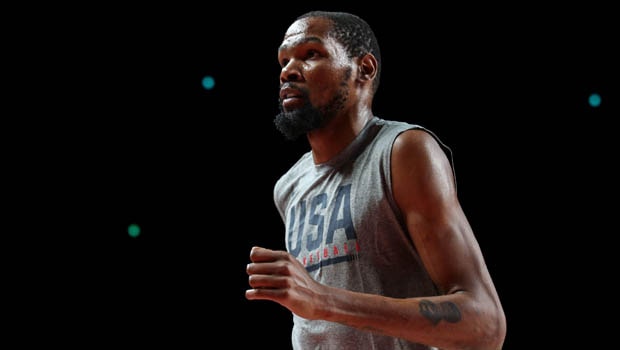 Brooklyn Nets talisman Kevin Durant has had a glorious career in the NBA. Durant reached the mountain of 25000 points in the NBA after he top-scored for his team with 37 points against Boston Celtics on Sunday night. However, Durant's effort went in vain as his team lost by 126-120.
Durant became only the 23rd player in the NBA history to reach the milestone of 25k points. The talisman is also the seventh fastest to the landmark reaching there in 922 matches. Wilt Chamberlain (691), Michael Jordan (782), Kareem Abdul-Jabbar (889), LeBron James (915), Oscar Robertson (917), and Jerry West (920) are the six fastest players to reach the coveted feat.
Meanwhile, it is well known that Durant's career has been plagued by a spate of injuries. Had he not been out of the game due to multiple injuries in his career, he feels he would have reached 30,000 points by now.
Durant suffered a right Achilles injury in Game 5 of the NBA finals 2019 and was ruled out of the next season. Furthermore, he has missed almost 45 days of action this season due to sprained left MCL.
"It's pretty cool," Durant said. "I should be at 30 [thousand] right now, to be honest. But it's cool, it's cool to reach that milestone and be amongst the greats and I just got to keep pushing and keep going and see where I end up."
On the other hand, Brooklyn Nets head coach Steve Nash also heaped praise on Kevin Durant for his fine career so far.
"Kevin's incredible," Nets coach Steve Nash said. "I could sit here for an hour talking about Kevin Durant. And the ability, the sacrifices, the resilience, the passion for the game. That's what you see out there; obviously, someone that has gifts, but someone who has worked to master and refine those gifts endlessly. And he's come back from some big injuries and continued to play at an equally high level every single time. He's well into his 30s here — that's an impressive, impressive résumé and it's because of all the work on top of the gifts he has."
Brooklyn Nets have managed a solitary win in their last seven matches after having lost their last four games. The Nets will next take on Charlotte Hornets on Wednesday night.
Leave a comment