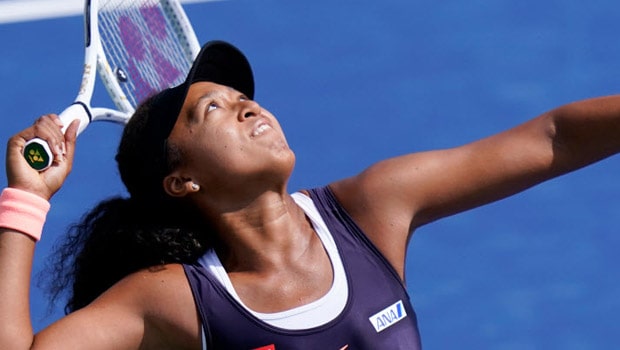 Naomi Osaka came bad from a bad first set to win the 2020 US Open by beating Victoria Azarenka 1-6 6-3 6-3 on Saturday, September 12 at Flushing Meadows. This is her second US Open title after beating Serena Williams at the finals in 2018. It is also her first Grand Slam since winning the French Open last year.
Osaka, in the first set, suffered in the hands of Azarenka who was aiming for her third US Open and was only able to make 1 shot as Azarenka easily cleared the round. This presented very little hope for the Japanese but she was able to rise in the second round, where she was able to break the lead at 4-3, after initially trailing 2-0, which she maintained to win the set. The match then went into a decider and the 23-year old showed the same resilience against the 31-year old Belarusian, breaking her at 5-3, although she started the set on a good note, with a 4-1 lead, before Osaka posted the winning serve.
Osaka and Azarenka's paths would have crossed last month at the final of the Western and Southern Open, till Osaka pulled out due to a hamstring injury. Azarenka played a brilliant first set and was able to show dominance but flopped badly in the second and third round and Osaka was able to use that to her advantage.
It was on this same grounds that Osaka captured the attention of millions around the world after beating former world number one, Serena Williams, in a very controversial match back in 2018. Now, things are different and there are no doubts that she deserved the win. But things are not just different with Osaka but with the environment as a whole. Unlike 2018, this time the US Open was played in the absence of fans in a bubble to keep every participant safe due to the coronavirus.
Speaking after the match, Osaka said, "this win feels different overall because of the circumstances I'm under. I wasn't in a bubble last time. There were a lot of fans last time. I feel like, in the end, all I focus on is what I can control on the tennis court. That's what I did last time. I feel like that's what I did this time."
The highest current paid sportswoman, according to Forbes has added a whopping $3m to her fortune after lifting the title. Osaka has also been a charm off-court as she has been very vocal against racism and police brutality. We would see her next at the French Open where she tries to defend her title.
Leave a comment