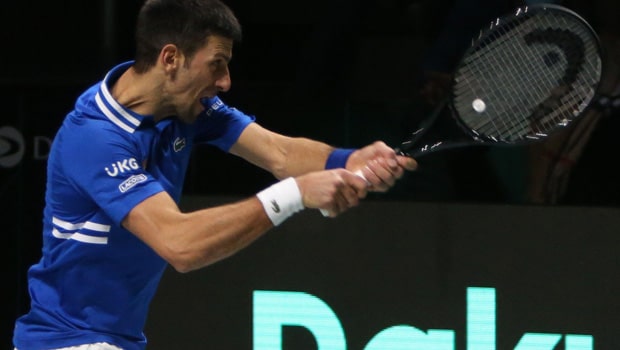 It seems like World no.1 Novak Djokovic will compete in the upcoming Australian Open as he has been named in the Australian Open entry list despite not publicly revealing his vaccination status. There have been doubts raised on Djokovic's participation in the Australian Open after the Victoria state government made it mandatory for all the players to be double vaccinated to participate in the tournament.
However, the Serbian has been reluctant to reveal his vaccination status and he hasn't confirmed his participation in the first slam of the year. But it looks like Djokovic is all set to defend his Australian Open title.
Djokovic had a stellar run in 2021 as he won three Grand slam titles and had a 27-1 record in four slams of the season. The World no.1 also had a 55-7 record in the year and played at the top of his game.
Djokovic is sobriquet as the 'King of Melbourne' as he has won Australian Open titles on nine occasions, which is the most of any player. Thus, Djokovic has always had special memories while playing in Australia and he would look to clinch his 21st major title and become the most successful men's singles Tennis player in the history of the game.
Tennis Australia recently released a statement that read "all players, participants and staff at the Australian Open have to be vaccinated. "Any suggestion that Tennis Australia is seeking 'loopholes' within this process is simply untrue. Adjudicating on medical exemptions is the domain of independent medical experts. We are not in a position to influence this process and nor would we.
"Any application for a medical exemption must follow strict government guidelines based on ATAGI (Australian Technical Advisory Group on Immunisation) clinical advice. "This is the same process that applies to any person wanting to enter Australia."
Victoria's deputy premier James Merlino also shed light on Tennis Australia's statement, saying "My view on this is really clear and really simple. Everyone's looking forward to the Australian Open and everyone who will attend – spectators, players, officials, staff – everyone is expected to be fully vaccinated.
"They're the rules. Medical exemptions are just that – it's not a loophole for privileged tennis players. It is a medical exemption in exceptional circumstances if you have an acute medical condition."
The Australian Open will begin on January 17.
Leave a comment