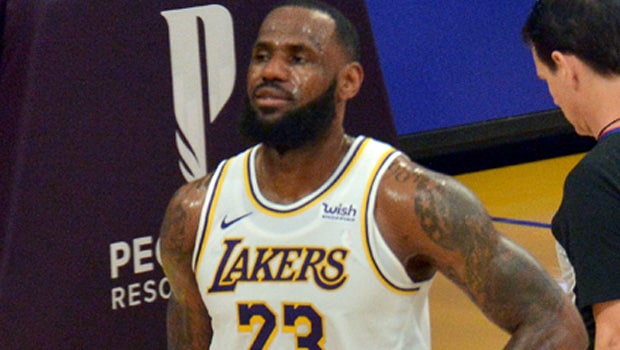 LA Lakers haven't had the ideal start to the ongoing NBA 2021-22 season. The Lakers have a 13-12 record thus far in the season but they were able to take their revenge against Boston Celtics. The Lakers had lost their previous match against the Celtics by a massive margin of 22 points as they lost 108-130.
However, the Men in Yellow were able to bounce back stronger as they defeated Boston Celtics by 117-102 with their talisman LeBron James top-scoring with 30 points on Tuesday night. James also got support from Anthony Davis as he scored 16 rebounds and 17 points while Russell Westbrook provided 11 assists, and dropped 24 points.
James admitted that tonight was one of the best 48-minute games that we've had so far in the ongoing season and he is hopeful that the team will be able to carry the same form in the upcoming matches to build up the winning impetus.
LeBron James said after the win, "We got a lot of good moments tonight. We want to continue to build off of that. There are some things that we can clean up, but tonight was one of the best 48-minute games that we've had so far. We want to just continue with that going into Memphis."
King James gave credit to the team's defense for coming up with flying colors.
"Well, it starts on the defensive end. Besides the quick start from JT [Jayson Tatum], when he had 14 straight, we did a hell of a job of keeping guys in front of us. When guys were big, we did a great job of showing other bodies. And when we get stops, we are one of the best teams in the league in transition."
"That comes from a lot of paint points in transition. We defend at a high level, we know we are capable of like we did tonight, then we are going to give ourselves a good chance to win every night."
James added that he tries to make opportunities for his teammates and rued the fact that he hasn't played a lot in the ongoing season.
"When I'm on the floor, I just try to make things happen for my teammates. It's been unfortunate that I haven't been able to be on the floor as much as I would like to start the season. It felt really good tonight. My teammates picked me up. I tried to pick them up and hopefully we can continue that for the foreseeable future."
The Lakers will next face Memphis Grizzlies on Thursday night.
Leave a comment