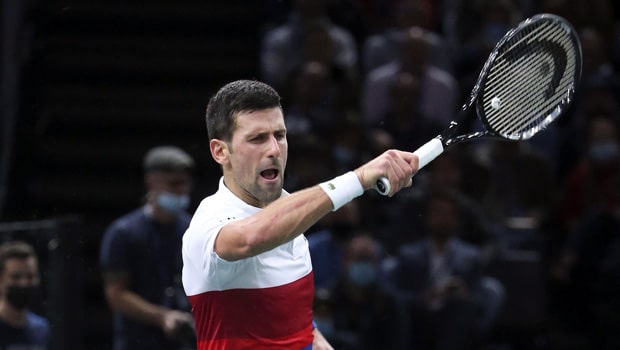 Former Belgium Tennis player Justine Henin stated that the World no.1 Novak Djokovic is totally unique. Djokovic once again proved his mettle as he made a resounding comeback at the Paris Masters. The Serbian was playing after two months gap but he was able to hit the ground running.
Djokovic went on to beat Daniil Medvedev in three sets by 4-6, 6-3, 6-3 to clinch his 37th ATP Masters 1000 title. Thus, Djokovic went past Rafael Nadal's tally of winning 36 titles. Furthermore, Djokovic has secured his year-end number one ranking in the ATP standings.
Meanwhile, it is still known that Djokovic doesn't always get the respect he deserves because of his character on the court. Djokovic is always under some kind of controversy and has never received the same respect as Roger Federer and Rafael Nadal.
"He is totally unique," Justine Henin told Eurosport. "I think it's really about time – even though there are a lot of people who obviously respect his huge career – that people realise what he is achieving.
"You can like Djokovic, you can dislike him, there are many people who don't fancy his character. But what he is doing in his career, what the champion is doing, is simply extraordinary.
"There are not many who can bounce back as he can. We talk about today, but we can go back to a year ago, after the US Open (disqualification against Pablo Carreno Busta), we also thought we would find him hurt.
"And despite everything, even if he loses in the final at Roland Garros, he is still there. After that, he rebuilt himself, he won the Australian Open, and his ability to bounce back is just phenomenal."
Meanwhile, Novak Djokovic was in red-hot form as he had a 27-0 winning streak in all the four Grand slams before losing to Daniil Medvedev in the final of the US Open.
"And I think that this defeat in the final of the US Open was simply necessary to allow Djokovic to breathe, to recover, to show himself to be a bit human," Henin continued.
"Because, finally, he has perhaps never been so loved as when he lost so harshly in the final against Daniil Medvedev."
Leave a comment