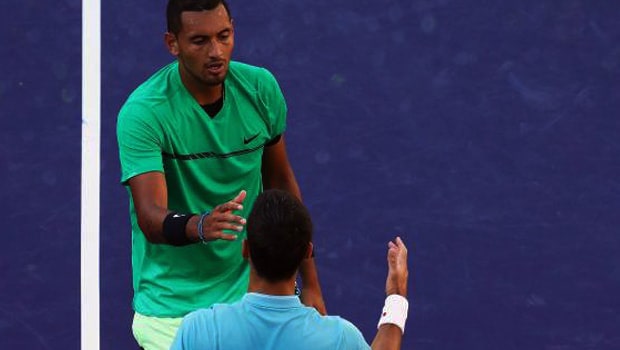 No. 1-seed Novak Djokovic won three straight sets after dropping the first one against Australian Nick Kyrgios en route to his seventh Wimbledon title (4-6, 6-3, 6-4, 7-6). It was Djokovic's fourth-straight Wimbledon championship.
"Nick – you'll be back, not just in Wimbledon but in finals," Djokovic said to  Sue Barker immediately after the win. "I know it's tough to find consolation words after a tough loss like this but you showed you deserve to be the best in the world especially on this surface after this tournament – I wish you all the best."
Djokovic now has 21 major trophies, just one behind Rafael Nadal's 22 for the most in men's tennis history.
"Every single time, it gets more and more meaningful and special," Djokovic said. "It always has been, and will be, the most special tournament in my heart. The one that motivated me and inspired me to start playing tennis in a small little mountain resort in Serbia."
Kyrgios entered the tournament ranked No. 30 overall. He was trying to become the first unseeded men's champion at Wimbledon since Goran Ivanisevic in 2001. Coincidentally enough, Ivanisevic is now Djokovic's coach.
"Yeah he is a bit of a god – I'm not going to lie," Kyrgios said. "I thought I played well. First of all congratulations to Novak and your team. You've won this Championships that many times I don't even know any more.  "Obviously to all the ball kids, the umpires – I know we have a tough relationship at times so thanks for putting up with it. And thanks to the crowd – it has been an amazing couple of weeks for me personally."
Kyrgios had been past the quarterfinals in 29 previous Grand Slam appearances.
Critics have immediately mentioned this year's tournament had some unpredictable variables, beyond Nadal pulling out after the quarter-finals.
Roger Federer missed the tournament for the first time since the late 1990s as he continues to recover from a right knee injury. Alexander Zverev, ranked No. 2 in the world, sat out after tearing ankle ligaments at the French Open.
"I really respect you a lot, you are an amazing talent and now everything is starting to come together for you," Djokovic said. "I never thought I would say so many nice things about you considering the relationship. Okay, it's officially a bromance."
Leave a comment