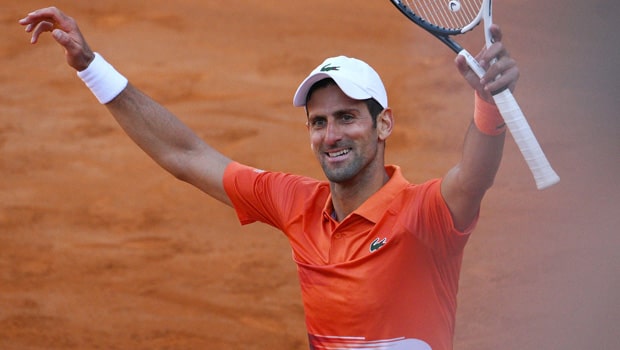 The World no.1 Novak Djokovic became the fifth player in the history of the Sport (Open Era) to register 1000th Tour wins after he defeated Casper Ruud at the Internazionali BNL d'Italia in the semifinal by 6-4, 6-3. The Serbian gets to the milestone after Roger Federer, Rafael Nadal, Ivan Lendl, and Jimmy Connors.
Djokovic added that he was looking to get to the milestone after watching his rivals Nadal and Federer achieve the same. World no.1 had achieved his first-ever professional win against compatriot Viktor Troicki.
Djokovic was delighted with his record win and gave his gratitude to the organizers as well as the fans.
"Thanks to the tournament and the crowd for celebrating the milestone with me," Djokovic said in his on-court interview.
"I've seen Roger and Rafa celebrate those milestones in the last couple of years and I was looking forward to get to that 1,000 myself. I'm really, really blessed and privileged to have that many victories on the Tour. It's been a long time, ever since I won my first match on the Tour. Hopefully, I can keep going and many more victories to come."
Meanwhile, Djokovic was able to hit the ground running as he raced to a 4-0 lead in the first set. Djokovic admitted he played really well throughout the game.
"I thought I played very well," Djokovic assessed. "Started fantastic, 4-0. Then I did slow down a bit. I did drop my level and I wasn't feeling that great on the court for about 15, 20 minutes. He used that, and managed to get himself back in the first set. It was important to close it out in the 10th game, clinch the first set."
Djokovic feels it was a close contest in the second set but he always had his chances against Ruud's serve.
"Second set it was a close couple of games in the beginning, but I always felt like I was in his service games, always had chances," Djokovic added. "I felt I played really, really well in the first four games, the last four games of the match. Hopefully, I can take that level into tomorrow's final."
Djokovic will face Stefanos Tsitsipas in the final and he will be looking to clinch his sixth title in Rome.
Leave a comment