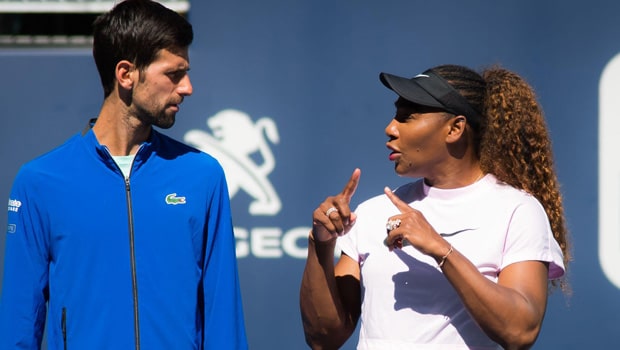 Legendary Tennis coach Patrick Mouratoglu has opined that Novak Djokovic and Serena Williams have the ultimate mindset of champions. Djokovic and Williams are regarded as two of the best Tennis players of all time. Djokovic is currently the World no.1 in Men's Tennis and he has won 20 slam titles while Williams has clinched 23 major trophies.
The Serbian and the American are known to give their best on the court and they have dominated the sport in the last decade. Djokovic and Williams have always worked hard on their game and the results have been palpable.
These two greats of the game have always given their 120% on the court and they have prepared for their matches in the best possible manner. Furthermore, they are known to never give up and have risen through adversities in their respective careers.
The renowned coach, who has coached Serena Williams in the past, said while talking on his Instagram post, "[With] champions, they have the mindset and the mindset builds the tennis. So it's all about the mindset and that is true for everything. Whatever you do, if you have the right mindset, you're going to make it. "Some players that I know, they are champions in their mind, I know that [in] their second life after tennis, they're going to do great because they process the right way.
"The people who have the best mindset naturally, are the ones who are going to go the furthest. "I remember Novak [Djokovic], he was 17, you don't think, 'WOW! His tennis is incredible'. No, but he has [an] unbelievable mindset. He has the ultimate mindset of a champion. Same as Serena. "They developed their tennis. Same with Lleyton Hewitt, you see Lleyton Hewitt, you don't think 'wow, the tennis was incredible,' yet he was number one in the world because he has the mindset of a champion."
Both Serena and Djokovic were able to take giant strides at the top level because of their work ethic and dedication to always keep improving their game.
Djokovic will look to win his 21st slam title at the Australian Open while Serena Williams has decided to pull out of the tournament. The Australian Open will begin from January 17.
Leave a comment