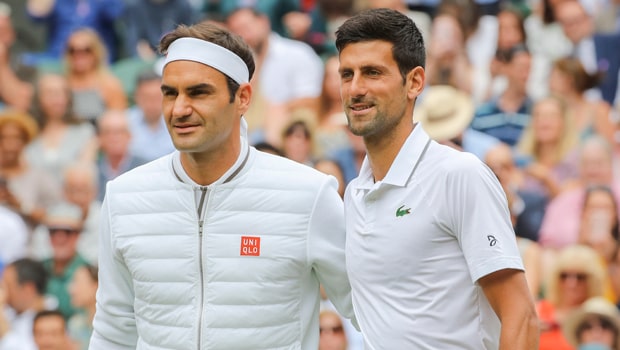 Canada's young Tennis sensation Felix Auger-Aliassime has had a couple of weeks to remember for a lifetime. First the 20-year old youngster defeated Roger Federer on grass in the second round of Halle Open and now he has made it to his maiden Grand slam quarterfinal.
The young gun caused an upset against fourth seed Alexander Zverev as he defeated the German in a thrilling five setter by 6-4, 7-6, 3-6, 3-6, 6-4. However, the talented player who is making a name for himself at the top level believes the World No.1 Novak Djokovic and Roger Federer are still favorites to win the Wimbledon title.
Federer has found his mojo after losing the second round against Felix in Halle Open. The Swiss maestro will be playing his 58th Grand slam quarterfinal when he takes on Hubert Hukracz in the quarters.
On the other hand, Novak Djokovic is in red hot form as he is chasing his 20th Grand slam title to equal the record of Federer and Nadal. Djokovic has already won Australian Open and French Open in the current season and he is eyeing to create history.
"The grass is always a bit different from the rest of the surfaces; you don't play too many games a year and those who like it and have experience can have a great performance," said Auger-Aliassime.
"There are the great champions like Novak and Roger who are still the favourites for the title and will be difficult to beat," added Auger-Aliassime. "In addition, the absences of Rafa (Nadal) and Domi (Thiem) opened the draw a bit for other names to appear. It's always good to see fresh faces and I'm happy to be one of them."
Well known for its tradition and value, Wimbledon holds a special spot out of the four majors. Felix added that one wants to do well in all the four slams but more so at Wimbledon.
"My celebration was very honest and genuine because it was a great milestone for my career," he said. "You want to play well in the Grand Slams and more so at Wimbledon, which has the spice of being my favourite tournament."
Felix Auger-Aliassime will face Italy's Matteo Berrettini in the quarterfinals.
Leave a comment