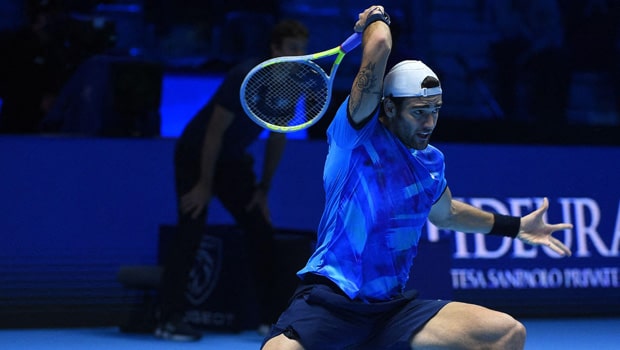 Italy's Tennis sensation was utterly disappointed when he could not finish the match against Alexander Zverev after he suffered an injury to his left oblique after the start of the second set on Sunday. The home atmosphere was electric for Berrettini in Turin and the home crowd favorite also produced great Tennis in the first set as he pushed Zverev into the tiebreak only to lose it 7-9.
It was anticipated that the match will go down to the wire between these two top players but Berrettini was soon seen in tears after suffering an injury. In fact, Berrettini had to spend two months on the sidelines after he suffered an abdominal strain during the Australian Open. However, the Italian is not sure whether this injury is the reoccurrence of his earlier injury.
"The atmosphere was one of the best I ever felt in my life," Berrettini said. "It was unbelievable. That is probably why I feel so bad right now. Not being able to finish the match is killing me. It is just really tough to face. I really wanted to enjoy every second, that's what we said as a team. The worst thing that could have happened, happened."
"It is mentally really tough for me because I used to have an injury close to the same area, so it is tough to play," Berrettini said. "Also, I don't know what it is. I have to figure out what it is and then if it is nothing really big, maybe I can play. Tomorrow with my team and the doctor I will do some checks and I hope it won't be something that won't let me play the next two matches.
Berrettini admitted that he was mentally bit scared to play at his 100% after abdominal injury, which he suffered in the Australian Open.
"I just felt around the same area on the serve. I got scared and the mental part is the most important part. I remember coming back from that injury, to serve at full power I had to be brave, which is not easy when you felt something before. It was just impossible to keep playing."
This is Berrettini's second appearance at Nitto ATP final after he participated in the 2019 edition when the tournament was hosted by London. However, Berrettini might not be able to play again in the ongoing season as his injury looks serious.
Leave a comment