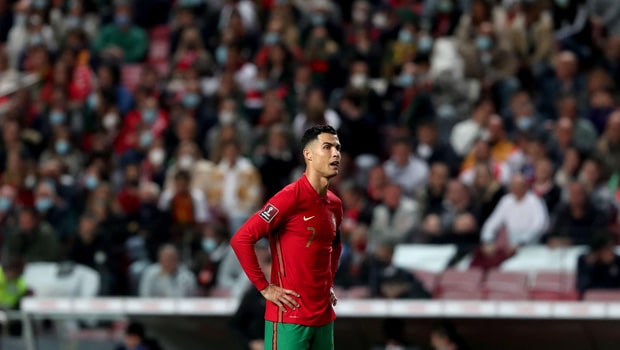 Portugal captain Cristiano Ronaldo posted a motivational message on his Instagram after his team lost against Serbia in the World Cup qualifier on Sunday in Lisbon. Serbia went on to shock the hosts as they defeated them by 2-1 after a later winner from Aleksandar Mitrovic in the 90th minute. Renato Sanches had put Portugal in front in only the second minute of the game but Dusan Tadic equalized for Serbia in the 33rd minute.
As a result, Serbia has now earned a direct qualification for the 2022 FIFA World Cup, which will be played in Qatar while Portugal will need to go through the playoff to secure their place in the quadrennial event. In fact, both teams had entered this contest with 17 points under their belt.
Portugal needed to avoid the defeat as they had a better Goal difference than Serbia to earn their ticket to Qatar. However, it wasn't to be the case as Ronaldo's team was flabbergasted.
In his Instagram post, Cristiano Ronaldo wrote: "Football has shown us time and time again that, at times, it is the most winding paths that lead to the most desired outcomes. Yesterday's result was tough, but not enough to get us down. The objective of being present at the 2022 World Cup is still very much alive and we know what we have to do to get there. No excuses. Portugal heading to Qatar."
Meanwhile, Cristiano Ronaldo has been in sublime form in the qualifiers as he had scored six goals in seven appearances. Ronaldo scored a hat-trick against Luxemborough and also scored a brace against Ireland.
Portugal will once again rely on their talisman in the playoff and they will look to qualify for the 2022 World Cup. In fact, Portugal has qualified for the World Cup in the last five consecutive times. Out of these previous five straight participations, Ronaldo has been part of the squad in the last four events.
Ronaldo will want Portugal to qualify for the major event as it well could be his last World Cup.
Leave a comment