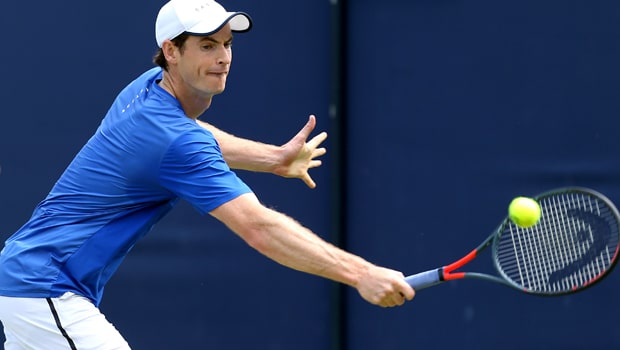 Three-time Grand Slam champion Andy Murray says he has 'no expectations' ahead of this week's return to competitive tennis.
Scotland's Murray, 32, will play doubles with Spain's Feliciano Lopez at Queen's Club on Wednesday.
It comes just five months after Murray appeared set to retire from the sport having encountered long-standing chronic hip pain.
Murray now says 'life-changing' surgery rekindled his love of tennis and he is eager to get back out on court. He doesn't know what to expect of his body, however.
"I didn't expect to be in this position," the Scot said.
"I didn't know how it would feel if I went and had the operation. But it has been brilliant, completely life-changing for me from where I was.
"I'm looking forward to getting back out there, but I don't know what to expect and I'm not putting any kind of expectations on myself. "Just being out on the tennis court and being pain free is enough."
Murray had been suffering 'too much pain for about 20 months' as he revealed at the Australian Open in January that he would likely retire after Wimbledon this summer – assuming he could even get as far as the All-England Club.
With two Wimbledon titles, a US Open crown and two Olympic gold medals, he is the standard-bearer for modern British tennis and Murray is optimistic that he's not quite finished yet.
"There have been a number of times over the past 18 months where I did want to stop. I was getting no enjoyment out of tennis at all, whether that be training, practice, matches," he said.
"I wasn't bothered about winning matches either because it wasn't fun. "Now I like playing tennis, getting out on the court and hitting balls. I want to keep playing if I can because I enjoy it."
Murray is 23.00 to win Wimbledon next month, with Roger Federer 4.20 and world number one Novak Djokovic currently 2.50 to defend his crown.
Leave a comment