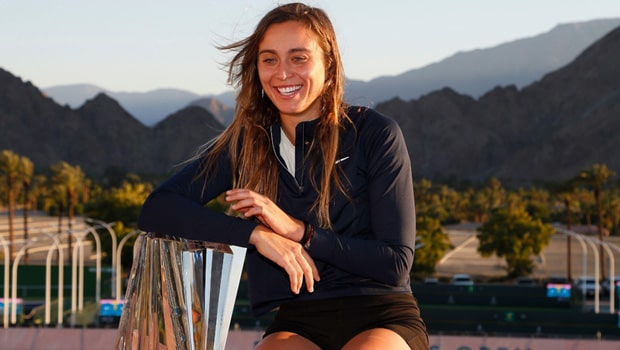 Paula Badosa created history at the BNP Paribas Open as she became the first Spanish woman to win the showpiece event. Badosa defeated Victoria Azarenka in the finals of the BNP Paribas Open to achieve the heroic feat.
The 23-year-old played a gruelling encounter with Azarenka to win 7-6(5),2-6, 7-6(2) in the finals. Badosa showed great character and grit to title the tiebreaker in her favour as both the finalists pushed each other to the limits. There was not much difference between the two players but Badosa held her nerve and delivered at the crucial moment to win the biggest match in her career till now.
During the post-match conference, she revealed how it was very difficult for her. She also highlighted how she only concentrated point by point rather than thinking about anything else.
"Yeah, it was really tough," Badosa said. "I think she was playing on a very high level. In that moment I started to focus – at the final of the third set I started to focus on what to do every point, every ball, and not think of anything else."
"I think that was quite important because it was a final," the 23-year-old added. "I really wanted to win it so bad."
It was genuinely a rollercoaster of emotions in the finals and Badosa felt it through and through. She also added how she was in shock after winning the final and coming out on top.
"It was amazing," she added. "I'm still a little bit in shock that what happened right now. But in that moment I was super excited and super proud of what I did after three hours fighting on the court."
The Spaniard has realised that nothing is impossible in tennis and overall in sports. She feels that the feeling of beating anyone on any given day was her biggest takeaway from the BNP Paribas Open. Badosa lastly revealed that she never stopped dreaming and believing in her abilities despite facing some tough days in her career.
Lastly, the young Spaniard has revealed that winning the BNP Paribas Open will give her the confidence that she needs going forward. She has now shifted her focus to ensure a spot at the upcoming WTA Finals.
Leave a comment