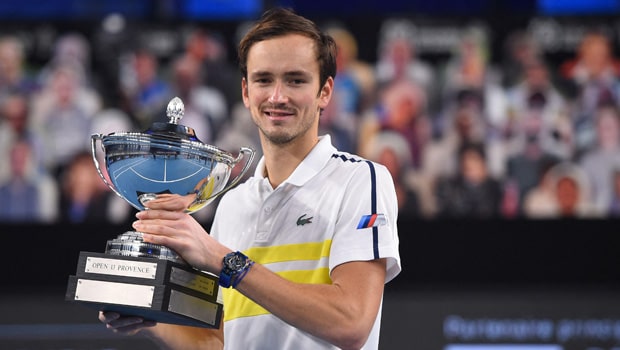 Daniil Medvedev has added a new achievement to his record as he now becomes the first person outside of the Big Three to have a spot at the top 2 positions. This is the first time that such a thing is happening in almost 16 years, that is since Lleyton Hewitt achieved the same feat in 2005. Medvedev displaced Rafael Nadal who has held the position for years now after the Spaniard had to opt-out of games this month as he recovers from a back injury. This is coming a week after Novak Djokovic broke Roger Federer's record for the most weeks as world number one.
On Sunday, Medvedev celebrated his 10th ATP title after he defeated Pierre-Hugues Herbert 6-4, 6-7 (4), 6-4, there on the court in Marseille, France. This is his first win for the season after losing to Djokovic at the finals of the Australian Open last month. Before then, Medvedev ended his 2020 season on a good note as he won the Paris Masters as well as the 2020 ATP Finals. After his win on Sunday, he said that winning the 10th title is something he has always looked forward to; "I am really happy about the number 10. It gets me to two digits, something which I dreamt of when I was a kid.
But it was not Sunday's win that moved him up the rankings, as even he noted; "I know that winning here didn't give me the points to become No.2, but it is great for the self-esteem that just before becoming No.2 on Monday, I win a tournament." The fact that Nadal had not played any event since the Australian Open was enough for Medvedev to earn points that saw him go from number 2 to number 3.
Now, the 25-year old would try to compete for a Grand Slam title, having made it to the finals twice already.
Leave a comment