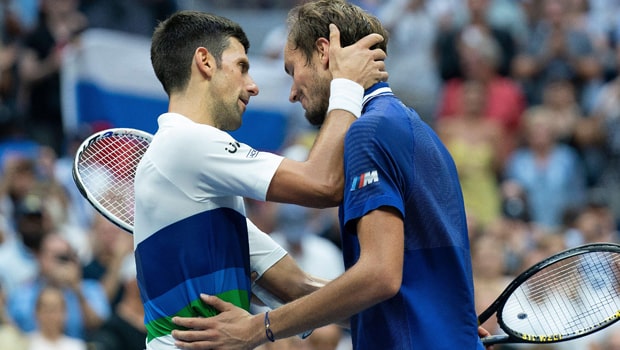 The 2021 US Open final looked like the final of the 2021 Australian Open, with Novak Djokovic and Daniil Medvedev on either side of the court. But unlike in Australia, it was Medvedev that went home victorious on Sunday night after defeating Djokovic in a game of three sets to win his first-ever Grand Slam, at the age of 25.
Djokovic, who had been aiming to complete a calendar Grand Slam by winning the US Open title, having won the previous Grand Slams this year, failed to win any of the sets as the game ended 6-4 6-4 6-4. If he had succeeded, he would have been the first man in over 50 years to win all four major titles in one calendar year. Also, if he had won, he would now have a total of 21 Grand Slam titles, putting him ahead of Roger Federer and Rafael Nadal who both have 20.
Medvedev dominated the three sets as the world number one made a series of errors that spoilt his game. It was these errors that Medvedev took advantage of as he sailed to his first Grand Slam victory. Medvedev was more confident, which made him serve better and make fewer mistakes. So, not only was Djokovic making mistakes but Medvedev played a solid game as well. At the end of the round, Medvedev had 16 aces while Djokovic had just 6.
Speaking after the game, Djokovic said that although he was sad, he was quite happy at the amount of support he received from the 23,000 fans present at the court. Anyone familiar with Djokovic knows that he has always been viewed as the bad guy and not given the same support and admiration people give to Federer or Nadal.
He said, "Even though I have not won the match, my heart is filled with joy and I am the happiest man alive because you guys made me feel very special on the court. You guys touched my soul. Of course, part of me is very sad. It's a tough one to swallow, this loss, I mean, considering everything that was on the line. But on the other hand, I felt something I never felt in my life here in New York. The amount of support and energy and love I got from the crowd was something I'll remember forever." For Djokovic to have said that it means the support was real and the public might be ready to accept Djokovic as the star he is.
As for the winner, his joy knew no bounds. Djokovic denied him the chance of his first Grand Slam title seven months ago but he expressed his apologies for denying Djokovic the chance of a record calendar Grand Slam, saying that the Serbian was the greatest tennis player in history. He also said that there was much pressure on Djokovic, which may have been the reason for this performance. Whatever the case, Medvedev has achieved something he had always wanted, because not only has he won his first Grand Slam, but he beat the number one player in the world to claim it.
Leave a comment