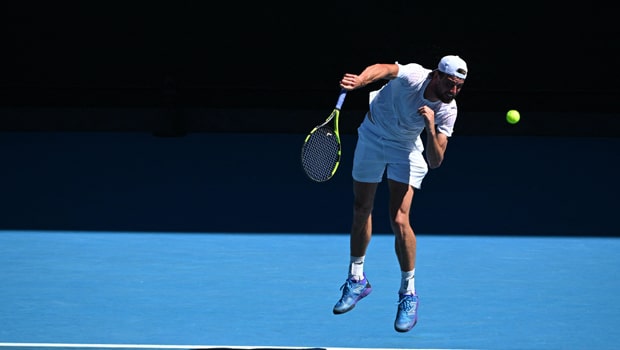 The highest seed at the Australian Open, Daniil Medvedev moved to the quarterfinals of the ongoing slam for the second time as he defeated America's Maxime Cressy by 6-2, 7-6, 6-7, 7-5. It was an easy first set for the Russian but he had toil hard in the next three sets as the match stretched to three hours and 30 minutes.
In fact, both the players took their respective medical timeouts and had some issues in their right hip. Medvedev had to battle hard for his points as the American was quick to the net and serve and volley really well. Cressy won 66% of his points when he came to the net and did put pressure on his opponent.
Furthermore, Medvedev was able to save a set point on his serve at 5-6 in the second set and then went to win the set in the tiebreaker.
"He really did [serve and volley] well," Medvedev said. "First set I had control, but the second set I didn't manage to break him but won the tie-break and just wanted to continue this way. When I lost the third [set] and when I had eight break points in the fourth set, I was like, come on. Some of them I could have won, but he played well, but on the last one I played well."
In fact, Medvedev was a bit frustrated and vented out at the chair umpire as he thought Cressy was taking more time on his serve. Moreover, Medvedev screamed, "This is the unluckiest day of my career". However, Medvedev kept his cool in the end and he was able to make the most of his chances.
"It was long and it was not easy, the scoreline apart from the first set were all tough sets and if I didn't win the fourth set I would have been in a tough mental shape," Medvedev admitted. "I had so many break points in the fourth set, I just wanted to make one. "I definitely had some break points where I could have played them a little bit better. "He still gave me the chance to be in that game, but it was a hell of a match."
Medvedev will face Canada's Alex Fuger Aliassime in the quarters.
Leave a comment