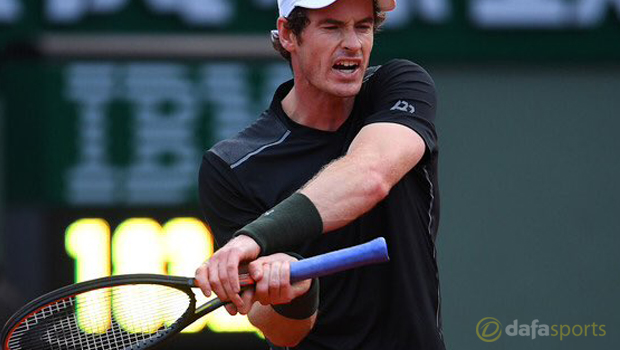 Andy Murray is growing frustrated at his struggles in the early stages of the French Open, according to Great Britain Davis Cup captain Leon Smith.
The 29-year-old entered the French Open in fine form on a five-match winning streak, which had seen him beat Novak Djokovic in the Rome Masters final.
The Scot boasts the best winning percentage on clay of anyone over the past 13 months, despite it previously being one of his weaker surfaces.
After strong showings in Rome, Monte Carlo and Madrid, Murray arrived in Paris with a lot of expectation on his chances as he looks to add another Grand Slam to his CV.
However, Murray was taken to five sets in the opening two rounds, firstly by Radek Stepanek and then Mathias Bourgue, who are ranked 128 and 164 in the world respectively.
Smith has been in Murray's box for both matches in Paris and has admitted there is some frustration that he hasn't been able to keep building momentum, although he expects that to change.
"Clearly the form he's showed in Monte Carlo, Madrid and of course in Rome with Djokovic, it got everyone talking about it a bit more and I'm sure, with the standards he's set, how he was hitting the ball, how he was executing every point and rally, it was exceptional," said Smith.
"Then if it doesn't quite go that way in the early rounds here, there's a bit of frustration, which I think is pretty normal, because he set himself an unbelievable last match against Novak Djokovic and then suddenly the timing's not quite there.
"Of course he'll be a bit frustrated, but that's what happens in this crazy sport. It literally changes every single day – yourself, the opponent, the conditions."
Leave a comment