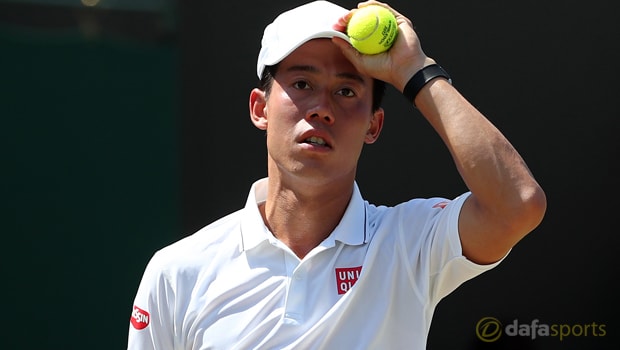 Kei Nishikori has become the latest member of world's top ten to suffer an injury blow, the Japanese set to miss the remainder of the season with a wrist problem.
The world number nine tore a tendon in his right wrist and is set to be out for the foreseeable future, although he has not yet undergone surgery on the problem.
Nishikori's absence means seven of the world's top ten players are out of the ATP Tour's Cincinnati Masters event.
The US Open at Flushing Meadows in New York is also staring at a depleted field. Nishikori joins 12-time Grand Slam champion Novak Djokovic and Stan Wawrinka in missing the final Grand Slam event of the season.
Andy Murray and Roger Federer are also battling ailments to be fit in time for New York.
Murray hasn't played since Wimbledon, while Federer is skipping the Cincinnati Masters after the Swiss picked up a slight back problem during his straight-sets defeat against Alexander Zverev in Sunday's Rogers Cup final in Montreal.
Murray, Federer, Djokovic, Wawrinka and Kei are joined by Marin Cilic and Milos Raonic as members of the world's top ten that will be missing in Cincinnati.
"Kei hit a serve during practice and heard a 'pop' in his wrist," said a statement from his manager.
"At this stage, we have elected not to do surgery and Kei is in a cast.
After the swelling comes down in the next weeks, we will evaluate next steps."
Rafael Nadal will be in Cincinnati and Federer's withdrawal means the Spaniard will take over as world number one from Murray on Monday when the rankings are updated regardless of the outcome this week.
Federer is favourite to win the US Open at 2.05, with Nadal priced at 3.10 and Murray available at 7.00 for another Flushing Meadows triumph.
Leave a comment