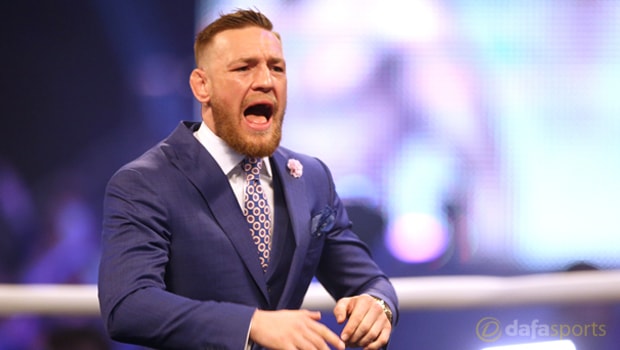 Conor McGregor is determined to use the 'disrespect' being shown to him from some in the boxing community as motivation for his upcoming bout with Floyd Mayweather in Las Vegas.
The Irishman, whose reputation has been built as a mixed martial artist in the UFC, will step into a boxing ring for the first time to face unbeaten American Mayweather later this month.
At 28, McGregor has a significant age advantage on his 40-year-old opponent, but some have suggested he has no chance of ending Mayweather's 49-0 professional record.
America's Terence Crawford, among the world's finest fighters, and Britain's David Haye have released videos on social media mocking the warm-up technique with which McGregor demonstrates unusually loose and flexible arms.
McGregor has defended his methods and he insists the criticism that comes his way before the fight will only serve as further motivation, while he also had a response for Haye, who cited a broken toe after his 2011 defeat by Wladimir Klitschko.
"I've seen some videos, but it's light-hearted, I don't take it personally. If anything I see stiffness in every single one of them," McGregor contended.
"With that skill-set, it's how you can change a jab to a hook in the blink of an eye, or a jab to an uppercut. "These are just age-old training methods.
That shoulder method you saw was made very popular by the great Rickson Gracie, one of the pioneers of mixed-martial arts.
"It's a shoulder-loosening exercise: you've got to do it correct though.
David Haye is a man who's pulled out of contests over a sore baby toe so he must be careful with the way he hits the pads."
McGregor is 4.75 to win the Vegas bout by KO/TKO/DQ/TD, while Mayweather can be backed at 3.75 to win on points.
Leave a comment