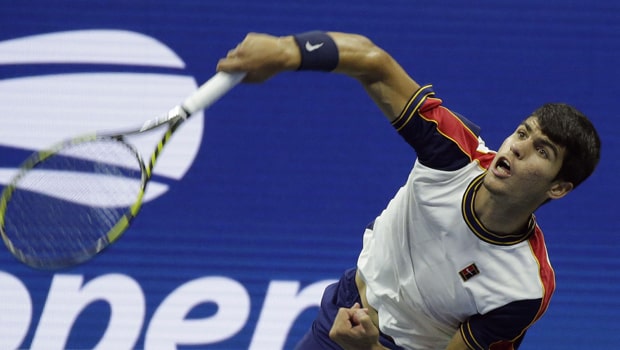 Spain's young Tennis sensation Carlos Alcaraz was disappointed after he had to retire from the US Open quarterfinal against Felix Auger-Aliassime. The Spaniard was forced to withdraw due to a right adductor injury. Alcaraz lost the first by 6-3 and was trailing 3-1 in the second before he decided to pull out due to injury.
However, despite a disappointing end to an amazing tournament, Alcaraz impressed with his skills and has certainly shown the skills to go a long way in his career. The 18-year old had become the tournament's youngest quarter-finalist in the Open Era as he played at the top of his game.
"It's really tough to end a great tournament like this. I had no choice to still play," Alcaraz said. "First of all, I have to take care of my body to stay healthy. It's a long match and I didn't feel good to still play, so I had to retire."
Alcaraz played two thrilling five-set encounters against Stefanos Tsitsipas and Peter Gojowczyk and it didn't help the Spaniard's cause as his workload was stretched to limits.
"To play two matches [that went to] fifth sets in a row, play on a great level, in a great intensity [for] four hours, it was really tough for me," Alcaraz said. "I am not used to playing these kind of matches in a row. I think it was really tough to recover [for] the next matches."
This is the first time that Alcaraz was playing such big matches in his young career and he feels he has gained a lot of confidence and experience, which will help him in future assignments.
"These matches gave me a lot of experience, so I think this tournament made me mature a lot. I think I played great tennis for me," Alcaraz said. "I'm really happy to play a first quarter-final in a Grand Slam. I think this tournament's going to be a great experience for me for the next tournaments."
Leave a comment