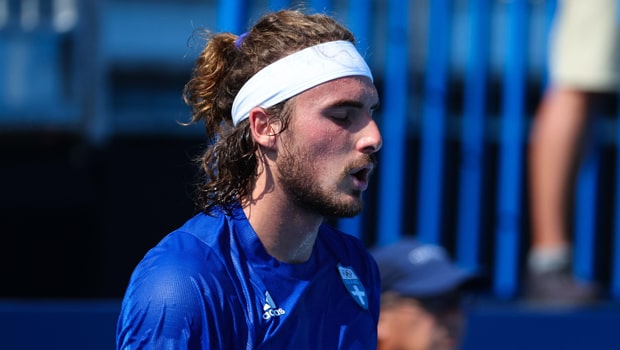 Greek Tennis sensation Stefanos Tsitsipas has achieved a special milestone ahead of the Toronto Masters. Tsitsipas is now the World No.3 in the ATP Rankings as he has surpassed Spaniard Rafael Nadal in the rankings. Nadal didn't play in Wimbledon and the Olympics and thus the southpaw has slipped in the rankings.
Tsitsipas now has 8115 points in the rankings whereas Nadal has 7815 points under his bag. Novak Djokovic is at the top of the rankings with a total of 12113 points whereas Russia's Daniil Medvedev holds his second place with 9920 points.
Tsitsipas added that achieving the No.3 rank is a huge achievement for him and he will look to continue his good work. The lanky player had qualified for the final of the French Open but lost to Novak Djokovic in a thrilling five-setter. However, Tsitsipas was stunned in the opening Round of Wimbledon by USA's Frances Tiafoe in straight sets.
Furthermore, the 22-year old from Greece lost in the third round of Tokyo Olympics against France's Ugo Humbert in three sets.
"Being at this ranking, it is a huge motivation and a very good indication that I've done great so far," Tsitsipas said. "[I am] just generally blessed that I've put in so much work to make it to the top three, which [I would consider] quite a special milestone."
In fact, Tsitsipas had entered the top 10 rankings two years ago and now has broken into the top three players in the rankings.
"That [Top 10 breakthrough] was a great dream of mine being fulfilled. The top three is on its own, something completely different," Tsitsipas said.
"I'm feeling good with my game, really happy to be back to Toronto, one of my favourite places to compete and play tennis," Tsitsipas said. "The location is exactly as I remember it. I'm just generally happy to be competing here again."
Tsitsipas will either face Lorenzo Sonego or Ugo Humbert in the National Bank Open.
Leave a comment