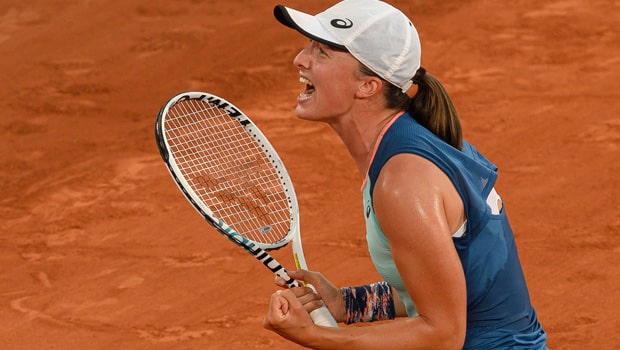 World no.1 Iga Swiatek continued her domination as she easily defeated America's Coco Gauff 6-1, 6-3 to claim her second Roland-Garros title. Swiatek dominated from the get-go as she broke the 18-year-old serve in the opening game.
This was the 35th consecutive win for the Polish player and she became the second player since 2000 to win 35 successive matches.
Swiatek was brilliant as Gauff couldn't challenge her. The World no.1 wrapped up the match in one and eight minutes as she won a total of 62 points as compared to Gauff, who could win only 39.
But, Gauff took an early break in the second set after losing the first set. However, Swiatek made a roaring comeback to take the set 6-3 and win her second Grand slam title.
"It was pretty tough," Swiatek said during the trophy presentation. "The pressure was big, thank you to all the fans for the support."
"Hopefully this is my first [grand slam] final of many," Gauff added.
On the other hand, Swiatek recalled her conversation with Rafael Nadal when the Spaniard lost the semifinal contest against Novak Djokovic in the previous edition of Roland Garros 2021 in a thrilling four-set contest.
"I think the best thing I can learn from him is how he's cool about what's going on around him," Swiatek said. "Because sometimes in our heads, I think many players are overanalysing everything. We treat those finals… [that] if we are gonna lose suddenly, our life is bad.
"I feel like all these great champions, they kind of accept that they may lose. I remember even last year when Rafa lost in the semi-finals, I met him coincidentally next day, at breakfast in the hotel, and I said to him that I was crying basically the whole evening because he lost.
"He was, like, 'Oh, it's just a tennis match. You win, you lose. It's normal'. Not everybody can do that and just treat those big moments as another match."
Nadal will face Casper Ruud in the French Open 2022 final.
Leave a comment