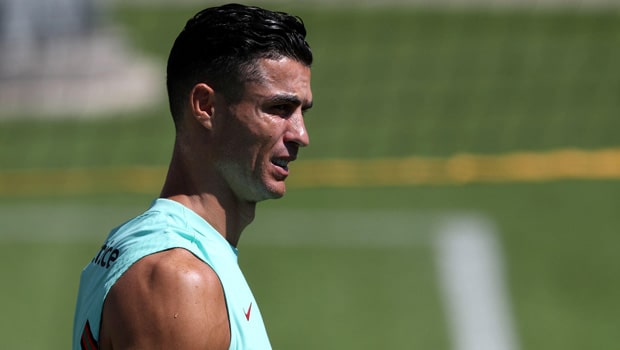 Portugal head coach Fernando Santos has revealed that Cristiano Ronaldo's omission in the team's clash against Spain in the ongoing UEFA Nations League was a tactical move. Santos surprised one and all as he didn't name Ronaldo in the starting XI and the Manchester United striker was brought on in the 62nd minute but he failed to find the back of the net.
The match ended in a 1-1 draw at the Benito Villamarín on Thursday. Alvaro Morata scored the opening goal for Spain however Portugal bounced back to draw the match as Ricardo Horta scored in the 82nd minute.
"Cristiano Ronaldo? They often ask why he is a starter. It's the million-dollar question," said Santos after Thursday's result. "I understood that for this game it was better to use the players I used."
Santos said Ronaldo's omission had nothing to do with his quality as there is no doubt about it. Ronaldo had a stellar season for the Red Devils as he scored a total of 24 goals across all competitions. The talisman won some of the matches for Manchester United single-handedly and he was the only positive for the club in what was a dismal season.
"It was a technical and tactical option for this game. It seemed to us the best solution. For the way we wanted to play and approach the game. It has nothing to do with Cristiano's quality, that's not even in question," he said.
"There are moments in the game when you have to think in a different way. We believed that in the second half he could come in and solve the game."
Cristiano Ronaldo and Co. will look to bounce back stronger in the upcoming matches. Portugal next plays Switzerland on Sunday while Spain travels to Prague to take on the Czech Republic.
Leave a comment