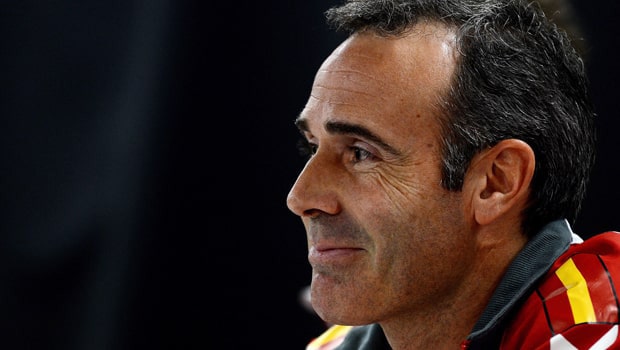 Former World no.2 Alex Corretja reckons Rafael Nadal will be a favorite to clinch French Open 2022 if he has no pain in his foot throughout the tournament. Nadal had recently made a return to the tour after recovering from a stress fracture in his rib. However, the Spaniard lost to Carlos Alcaraz in the quarterfinal of the Mutua Madrid Open.
Subsequently, he looked in discomfort due to his recurring foot injury during his Italian Open match against Denis Shapovalov, which he lost in three sets. Thus, Nadal hasn't had the ideal preparation for French Open but he is expected to go a long way in the tournament if he is fully fit. In fact, Nadal will be entering Roland-Garros without a single clay title for the first time since 2004.
Meanwhile, it is well known that Nadal is the King of Clay and he is almost unstoppable on the surface if he gets going. Nadal has clinched the Roland-Garros title on 13 occasions and he will be determined to add another crown to his decorated cabinet.
Alex Corretja said in an interview with Europa Press, "If he has no pain, he will have the chance to win the title".
"The little pace that Rafa has compared to his rivals will be replaced with experience and the first week of the tournament. The draw will be important, but if he has no discomfort there is no doubt that Rafa can get to Paris and be successful again. Someone who has 13 titles there, just with that and the state of form in which he was – his experience and his tennis are enough to win again, as long as he doesn't have discomfort."
Meanwhile, Nadal had surprised one and all after he won the Australian Open earlier in the season. Corretja added the Spaniard will look to give his best despite the injury trouble as it is the most important phase of the season for him.
"Sometimes, [the injury] doesn't let him play and other times he wins the title," Corretja said. "He has to live with that and when it comes it's a very strong blow, especially now that the most important moment of the season has arrived for him. The problem will be his physical limitations. If he sees that with them he cannot choose to be a Grand Slam champion and give him the opportunity to be one, he thinks about withdrawing. But he has already won a Grand Slam this year and everything that comes [after] it will be a prize."
The French Open will begin on May 22 in Paris.
Leave a comment