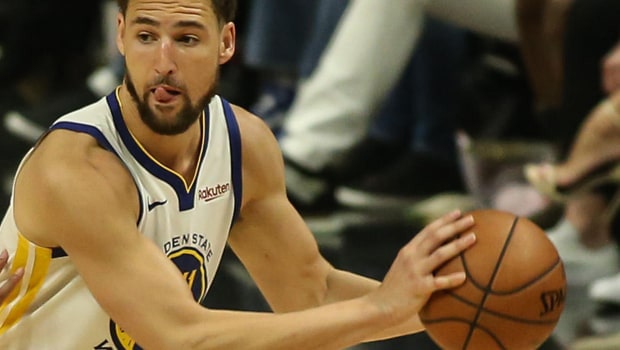 Golden State Warriors got off to an ideal start in the Western Conference finals against Dallas Mavericks as they took the Game 1 of the series by 112-87 on Wednesday night. It was an outstanding collective effort from the Dubs as seven of their players scored in double digits.
GSW was able to stamp their authority on the game from the very first quarter as they outgunned the opposition by 28-18 in the 12 minutes of play. The most impressive thing about GSW's win was their potent defense as they kept Luka Doncic and co. at bay.
Andrew Wiggins was the star of the show as he kept Doncic in check. The Slovenian could only score 20 points for the Mavs and Wiggins held Doncic on 5-11 shooting. Furthermore, he forced Doncic into three turnovers.
GSW's Klay Thompson was full of praise for his teammate after Wiggins did a brilliant job in guarding Doncic.
"He was moving them puppies tonight," Klay Thompson said. "That's why he was the No. 1 pick. You can't teach that athleticism. You can't teach that length. You can't teach his timing. I'm just happy the world is getting to see who he really is, and that's an incredible wing player, and he will be like this for the next 10 years."
On the other hand, Steph Curry, who top-scored for GSW with 21 points in Game 1 victory, also showered praise on Wiggins for fine defending.
"It's a tactic obviously in terms of just making guys work," said Stephen Curry. "It's just one more thing to think about. I wouldn't say it bothers you but something you can't try to overcome. Wiggs is going to keep doing it, but it's just one more thing to think about and that's good playoff basketball."
Wiggins was also delighted with his own performance as he played a key role in the team's win. The 27-year-old from Canada added he isn't tired and he is motivated to do well for his team.
"I feel like I'm still young. I don't really get too tired," Wiggins said. "I'm locked in. I'm motivated, and when you see it work or I feel like it's helping us play better, it just motivates me to do it more. I'm not tired or anything. You know, it's adrenaline. I just feel good."
The second game of the series will be played on Friday night.
Leave a comment