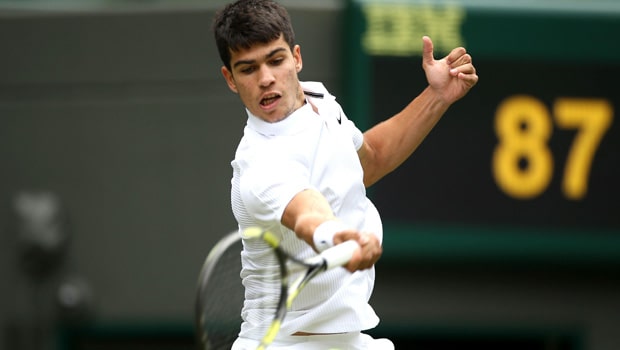 Spain's young Tennis sensation Carlos Alcaraz is making the right noises in his green career. The Spaniard recently won his first ATP Masters 1000 title in Miami and became the youngest to win the title in the tournament's history of 37 years. Furthermore, he became the third-youngest to win ATP 1000 Masters title after Rafael Nadal and Michael Chang.
Meanwhile, Alcaraz recently met his idol, Rafael Nadal, in the semifinal of the Indian Wells but lost in three sets after a grueling fight of three hours and 12 minutes.
After winning his third ATP title, Alcaraz wants to take the best in the business and he is hopeful of meeting the World no.1 Novak Djokovic in the Rolex Monte Carlo Masters. Alcaraz and Djokovic are in the same draw and could potentially meet each other in the quarters.
However, at the same time, Alcaraz wants to focus on his first-round match and take one step at a time.
The number eight seed of the tournament will face America's Sebastian Korda in the Round of 32 at Monte Carlo.
Speaking to reporters ahead of this week's Monte Carlo Masters, Alcaraz said "I hope to face Djokovic in the quarter-finals. "Sometimes it's difficult but I am trying to make it easy. The first time of everything to do my best and try to manage my nerves of the first time well.
"I don't want to be in a rush. I focus on the first round. Looking for the first round first but it would be a great match against the number one of the world. It's amazing for me. But hope to play well in the first match and hope to meet him in the quarter-finals. "It would be amazing to play against him, it would be a great challenge for me."
Alcaraz will need to bring his best Tennis against Novak Djokovic if they meet each other in the quarters. On the other hand, Djokovic hasn't played a lot in the recent past and he could be a bit rusty.
Leave a comment