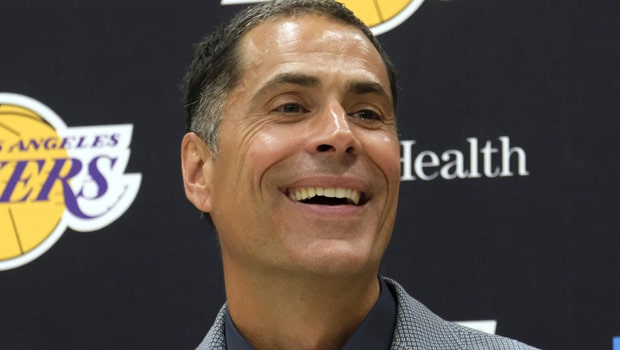 The LA Lakers have decided to fire their head coach Frank Vogel after a disappointing season in NBA 2021-22 despite the fact he was under contract till the next season. The franchise's General Manager Rob Pelinka didn't give a specific for Vogel's ouster but revealed it was time for a new voice in the dressing room after a dismal performance from the team.
Lakers could not even qualify for the play-in tournament after their Tuesday loss against Phoenix Suns. The Lakers finished the regular season with a 33-49 record as they failed to come up with a collective effort.
"Today is not going to be a day of finger-pointing and unwinding all the specific reasons," Pelinka said. "We just felt organizationally, at the highest level, it was time for a new voice. … That's not to say anything against the incredible accomplishments that Frank Vogel has had. He was a great coach here, and he's going to go on to be a great coach somewhere else."
Meanwhile, as reported by ESPN, the franchise has decided not to dismiss Vogel's coaching staff. Pelinka doesn't plan to replace Vogel immediately but they are expected to name a new coach before the draft in June.
"This was a disappointing Lakers season at every level," Pelinka said. "In the face of disappointment, our fans expect more, and that's in every facet. It starts in the front office led by me, and our ability to construct the right roster. It starts with the coaches holding players accountable and making sure there's on-court execution."
On the other hand, LeBron James, who had a super season individually for the Lakers, added that he has nothing but respect for Frank Vogel as he gave his best to the team.
"I respect Frank as a coach, as a man," James said. "Our partnership that we've had over the few years here has been nothing but candid, and great conversations. This is a guy that gives everything to the game and prepared us every single night. … I don't know what's going to happen with Frank being here, but I've got nothing but respect for him."
Vogel led the Lakers to glory in the NBA 2019-20 season but the last two seasons were disappointing for the team. Furthermore, the Lakers' progress was also hampered by a spate of injuries to their key players such as LeBron James and Anthony Davis.
Leave a comment