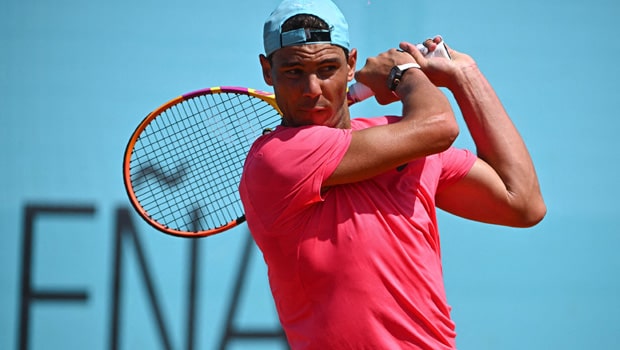 Rafael Nadal has been content with his career as he has always given his 120% on the court. Nadal is happy at what he is doing at 35 and stated he is not playing for things outside his happiness. The Spaniard had made a rollicking start to the season before he was ruled out for more than a month due to a stress fracture in his rib.
Nadal made a return to the ATP tour in Mutua Madrid Open but lost to the eventual winner of the event, Carlos Alcaraz in three sets in the quarterfinals clash. The veteran will now compete in the Italian Open to get crucial game time before the all-important French Open.
"I like what I do, honestly," said the 35-year-old. "I am not playing anymore for things outside of my happiness and for things outside of my personal motivation. "I am happy doing what I am doing. I still feel [I am] competitive when I am healthy enough."
Nadal admitted that it is not easy to manage injuries at the age of 35. In fact, Nadal has always been troubled with his foot injury but he has found a way to get the best out of himself.
"Of course, at my age, when you start having more problems than what you can manage, of course it is tough," said Nadal. "Body issues, pains, you can manage that. The problem is when you start to feel that with all the things that's going through your body, you can't be competitive enough to fight for the things that really keep exciting you.
"For the moment I am happy. It is true that I went through, again, a tough period of time. But I am here to enjoy and to give myself a chance to play well here in Rome."
Nadal added that he needs to keep improving his game as he is making a return after injury and be at the top of his fitness to get the best out of himself.
"I need to keep improving…[But] it's normal that I need some more time in terms of everything," said Nadal. "In terms of movement, in terms of being more fitter, in terms of reading again the game. In general terms, [it was] not a negative week in Madrid, even if the tournament is probably the most difficult for me, [with] the altitude.
"[I am] excited to be in Rome. It's a place that I love so much. [I have] amazing memories. I'll try my best, as I do always. I hope to be ready to play a little bit better than last week. Let's see."
Nadal will face John Isner or Francisco Cerundolo in the opening round of the Italian Open.
Leave a comment