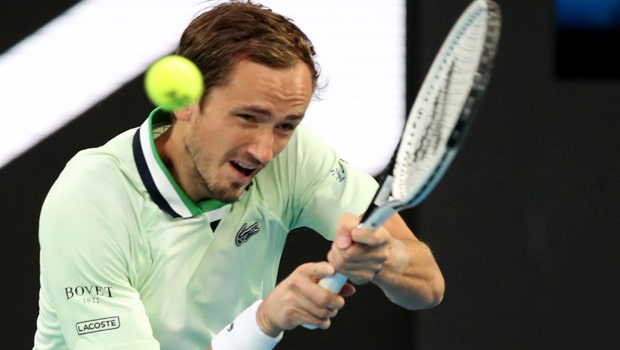 The World no.2 Daniil Medvedev had his back against the wall against Canada's Felix Auger-Aliassime in the quarterfinal of the ongoing Australian Open. Medvedev was down two sets and also had to face a Match Point but he was able to hang on by his nails to make his way into the semifinal of the tournament.
The Russian bested the Canadian 6-7(4), 3-6, 7-6(2), 7-5, 6-4 in four hours and 41 minutes in a thrilling contest. Medvedev was not at his best as he struggled with his serve in the first two sets while the 21-year old Canadian ticked the right boxes in his game.
Medvedev admitted that he was able to raise his own standards in the final three sets of the game and thought what would champion players like Novak Djokovic, Rafael Nadal, and Roger Federer will do after being two sets down. Medvedev thought of fighting till the last point and made his opponent work hard for his points.
"I was not playing my best and Felix was playing unbelievably," Medvedev said in his on-court interview. "[He was] serving unbelievably, he was all over me. I did not really know what to do, but I told myself, I am going to make him work and fight until the last point. I managed to raise my level. When they closed the roof I felt the momentum change, that I could hit through the court better."
Medvedev saved one match point on serve in the fourth set at 4-5, 30/40 as he was able to keep his nerves at the crucial junction and took the game into the final set.
"On the match point I managed to serve well," Medvedev added. "It is funny because with my locker bag I come with lots of clothes just in case. It is full and tough to zip up, but now it is empty, so that is how this match was."
Medvedev showed his mental strength in the quarterfinal and he was able to get through to the last four. The Russian will face Stefanos Tsitsipas in the semifinal of the Australian Open and he holds a 6-2 head-to-head advantage over the Greek.
"I'm going to try to recover as well as possible, to be ready to play against Stefanos, because he's a great player," said Medvedev. "I need to be at my best to beat him."
Leave a comment