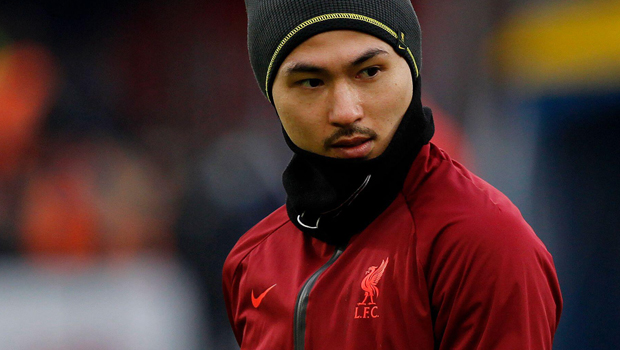 Jurgen Klopp and Liverpool are keen on keeping Japanese forward Takumi Minamino despite interests from both Premier League teams and abroad.
The former RB Salzburg forward has found the net six times in all competitions for the Red and has attracted interests from Leeds United and French Ligue 1 side AS Monaco.
Both sides have shown their interest by approaching Liverpool but the £7.25m acquisition from RB Salzburg two years ago in the January transfer.
The 27-year-old Japanese international featured in 19 matches in all competitions this season albeit four of his six goals this season for the Reds have come from the Carabao Cup.
Minamino has not cemented a starter's spot at the Anfield stadium and even spent the remainder of last season at the St Mary's Stadium on loan, making 10 appearances with two goals to his name for the Saints.
He has played a big part in Liverpool's run to the Carabao Cup final after scoring in the Quarterfinals 3-3 draw with Leicester City. While Liverpool pipped Arsenal to the Final match slated for the Wembley stadium on 27 February against Chelsea, who beat Tottenham to the final.
Meanwhile, Liverpool manager Jürgen Klopp has been nominated for the Premier League manager of the month.
The Reds have pipped Chelsea into second position on the table, albeit they are nine points away from Manchester City who dropped points in its last game against Southampton in a 1-1 draw last week.
Meanwhile, Liverpool beat Crystal Palace 3-1 in their last game in the Premier League. The team is now linked with Paolo Dybala, who plays for Juventus.
The 28-Year-old's Juventus contract will expire this summer, and Liverpool has already made a contact with the Argentine over a possible move to the Premier League.
Max Allegri has already stated his intent at keeping the Forward despite interests from Liverpool and Inter Milan, who both want to capitalise on his contact situation to sign him on a free in the summer.
Leave a comment