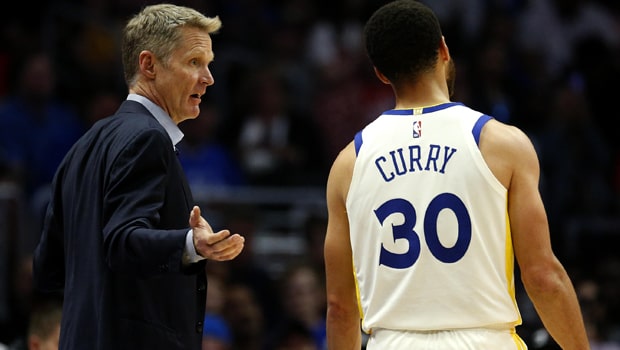 Golden State Warriors head coach Steve Kerr reckons the team's talisman Stephen Curry brings more to the table than just his shooting skills and he is still an all-world basketball player. Curry hasn't been in best of shooting forms since December, which is a bit of a worrying sign for GSW but Kerr is not losing his sleep over it as he is well aware of his star's abilities.
Curry is averaging 21 ppg in the last ten matches and has only scored 29.1 % from the three-point range, which is well below his own standards. However, Kerr believes Curry is doing a fine job for the team defensively in the absence of Draymond Green, who has been out due to an injury.
Speaking on the Damon and Ratto podcast, Kerr said: "Even when Steph isn't shooting the ball well from the outside, there's a flow that happens. He's still an all-world basketball player because he does so much more than shoot."
"I just think he's been playing great; his defense has been fantastic. He's taken over more of the point guard duties with Draymond out for sure, and he has really made good decisions and moved the ball. Last night was one of our best offensive games, and he had several plays where he just got the ball in the paint and kicked it out to wide open guys; there was a great pace and flow to the game."
Meanwhile, Steph Curry dropped 18 points, nine rebounds and seven assists against Dallas Mavericks on Wednesday as GSW obliterated the opposition by 132-90.
Once again, it wasn't the best of shooting nights for Steph Curry as he converted 7/16 field goals while he went 2-3 from the free throw line. Curry could only convert 2-10 three-pointers he attempted but contributed to the defense as he came up with nine rebounds and seven assists.
Golden State Warriors will next take on Minnesota Timberwolves on Thursday.
Leave a comment