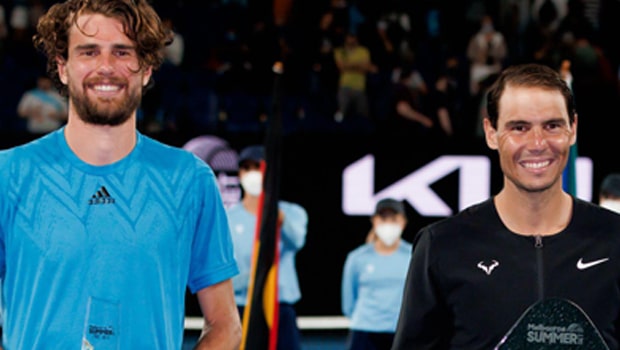 America's young Tennis player Maxime Cressy has revealed Rafael Nadal inspires him and he was impressed by his attitude and his dedication. Nadal is known to give his 120% on the court, which is always an inspiration for all the young players. Cressy recently met Nadal in the final of Melbourne Summer Set 1 but the American suffered a straight set loss as he was bested 7-6, 6-3 by the veteran.
Nadal went on to clinch his 89th career title as he made a perfect start to 2022. On the other hand, Maxime Cressy has also made a good start to the year as he made it to the final of the Melbourne Summer Set 1.
Cressy also defeated fellow American Reilly Opelka and Grigor Dimitrov to make his way into the final of the event.
The 24-year old continued his rich form in the Sydney International as he defeated Adrian Mannarino 6-3, 7-5 on Tuesday.
The American said in the post-match press conference, "I think I inspire myself from Rafa. I was impressed by his attitude and his dedication to always be prepared and no matter what be very vigilant, and I think I'm inspiring myself from him, and to be always disciplined".
"Everyone is good and everyone can play well, and I always have to play my best tennis of the day."
Maxime admitted that he was a bit excited after Rafael Nadal match but decided to calm himself down for his opening match against Adrian Mannarino.
"Yeah, of course I was a little excited after the Rafa match. A little painful match for me, but I moved on pretty quickly," Maxime Cressy said. "Yesterday I was a bit excited, but I got myself down really quickly. I knew that if I wasn't able to get to neutral position, today would not have gone well."
The Australian Open will begin from January 17.
Leave a comment