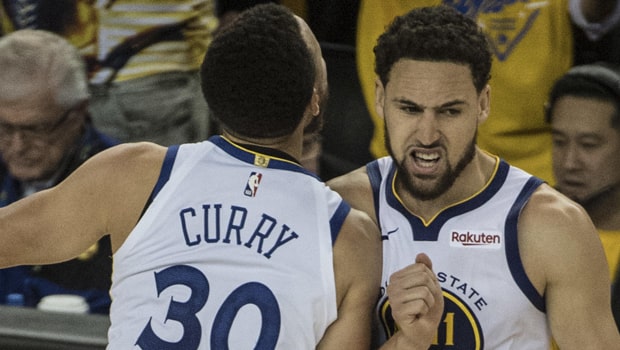 Golden State Warriors talisman Stephen Curry is impressed with the way Klay Thompson is attacking after making his much-awaited comeback. Thompson made a return to competitive Basketball after 941 days as he scored 17 points against Cleveland Cavaliers in only 20 minutes he played.
Thus, he had played a key role in his team's win of 96-82. Thompson scored 14 points against Memphis Grizzlies as he was once again kept on the court for 20 minutes by Golden State Warriors head coach Steve Kerr.
Steph Curry top-scored for Golden State Warriors as he dropped 27 points and was once again at his best. However, GSW lost their 10th match of the season as they were bested by 116-108 on Tuesday night.
Meanwhile, Curry heaped praise on his Splash Brother Klay Thompson and added that his teammate is optimistic in his body language.
"It's nice that he has that confidence in his body to be explosive, get to the rim and finish with a dunk or just put pressure on the defense. I like the way that he's attacking, trying to pick and choose his spots. It's good to see."
Thompson shot with 5-13 field goals and he was not much impressed with his accuracy. The linchpin added that he expect greatness everytime he steps on the court.
"I expect greatness every time I step on the floor. I'm not satisfied with 5-13."
Golden State Warriors have now slipped to second place in the Western Conference standings as they have a 30-10 record. GSW will look to make a solid comeback to winning ways in the upcoming match.
Golden State Warriors will next lock horns against Milwaukee Bucks on Thursday night.
Leave a comment