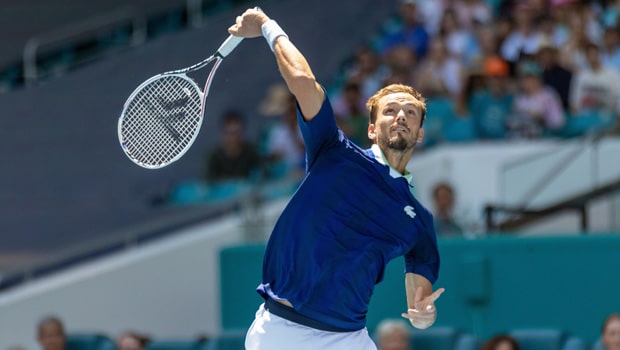 Russian Tennis sensation Daniil Medvedev won his second-round match of the Miami Open against former World no.1 Andy Murray convincingly by 6-4, 6-4 to enter the third round. Medvedev admitted that he has room for improvement and wants to keep getting better at his game.
The US Open champion will need to reach the semifinal of the ongoing Miami Open if he has to reclaim the numero uno position in the ATP rankings. Medevedev was able to wrap up the match in just under 90 minutes and he was happy that he didn't concede any break points as he was serving well against the former British number one.
"So I'm happy that I managed to have zero break points against me. I feel like I have some room for improvement, but it was a great match against an amazing player and I'm happy that I managed to go through. Every opportunity I had I tried to take it, to go for it. And there were a lot of moments when I was happy about my game."
Speaking on his serve, Medvedev said, "On the days when you serve good, your opponent doesn't have this freedom to return, it helps you. [In the] second set, the scoreline was easier, it was much tougher in the beginning, but when your opponent knows you're probably going to get some aces and it's not going to be easy for him to return, he gets pressure on his serve and many times that is what happens in close matches."
Daniil Medvedev has been in decent form in the recent past and he would aim to continue the same in the Miami Open. The Russian is the top seed in the tournament and he would look to go all the way in the event.
The 26-year old will next face Spaniard Pedro Martinez in the third round of the competition. Martinez defeated 27th seed Cristian Garin 7-6(2), 6-2 to reach the third round in Miami for the first time.
Leave a comment