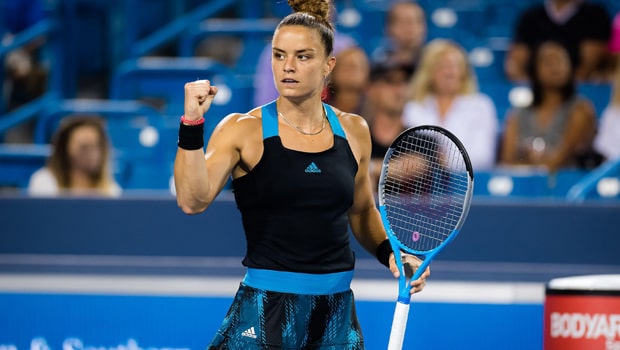 Greek's Tennis sensation Maria Sakkari came up with an epic performance as she ended 2019 US Open champion Bianca Andreescu's journey. Sakkari, who has had an impressive season, came out on top in the marathon contest of three hours and 30 minutes as she won by 6-7 (2-7), 7-6 (8-6), 6-3 to seal a place in the quarterfinals.
The 26-year old from Athens was delighted after she came up with her best. Sakkari revealed that she was prepared for a tough challenge from the Canadian and knew that it is going to be a tough match for her. The Greek had her work cut out but she had the final laugh as she stunned the no.6 seed.
"I was actually prepared for 7-6 in the third," Sakkari revealed in her on-court interview. "I actually told Tom (Hill, her coach) before the match that I'm prepared for 7-6 in the third but if it comes easier then I'll take it.
"I knew it was gonna be a very tough match. [Bianca] loves this court. She has her best memories [here]. "I mean, playing with a crowd especially. I dunno, it's so good for both of us…I'm sorry, I'm speechless," the Greek tailed off as the crowd applauded.
The match ended at 2:13 am local time as both players brought their best to the table. In fact, the epic match was just shy of the longest ever women's single game in US Open.
Furthermore, both of these players had played a thriller in the Miami Open as the match had lasted for almost three hours but Andreescu had won that game. However, Sakkari was able to take her revenge in the all-important fourth-round clash of the US Open.
Sakkari has written her name in the history books as she has become the first Greek player to qualify for the quarterfinals of the US Open. The no.17 seed will face world number four and 2016 US Open runner-up Karolina Pliskova in the quarterfinals.
Leave a comment