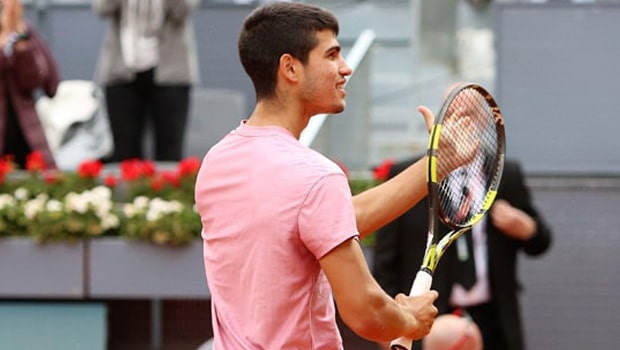 Young Tennis sensation Carlos Alcaraz has hogged the limelight for his impressive form. Soon after winning the Miami Open, Alcaraz didn't have a great start to the clay season as he lost early in the Rolex Monte Carlo Open. However, the Spaniard bounced back stronger and was able to go all the way in the Barcelona Open.
The 18-year-old defeated compatriot Pablo Carreno Busta in straight sets by 6-3, 6-2 on Sunday to continue his sublime form. In fact, back on 25th April 2005, an 18-year-old Rafael Nadal had won also won the Barcelona Open and had entered into the top 10 ATP rankings.
17 years later, Alcaraz, who is also 18, has repeated the same to follow in the footsteps of his idol. Alcaraz will enter the top 10 rankings for the first time in his promising career.
Furthermore, he became the youngest player to break into the top 10 rankings since Rafael Nadal in 2005 did the same.
Alcaraz revealed he is going to try to keep his foot on the ground and he isn't going to change as a person after getting the fame, which is knocking on his doors. The Spaniard is confident of achieving the big things if he continues to play in a similar fashion.
"I've always been a normal guy. I'm not scared of fame, I'm not going to change the person I am. "I'm happy to know that at 18 years old I'm in the Top 10, and to do it [at] the same age as my idol Rafa is impressive.
"I don't have any limits. I want to keep playing at the level I'm at and I think that if I keep going like this I have a lot of options to keep going up. I want to keep enjoying myself on the court, I don't want to touch the ceiling yet."
There is no doubt that Alcaraz is on the right path to success and he has the support of his coach Juan Carlos to guide him through.
"I have Juan Carlos, who is able to tell me how difficult it is and how much of a sacrifice it takes to reach number one.
"I think I'm on the right path. If I stay on it and continue to do things well, I will have chances, but that doesn't guarantee anything."
Leave a comment