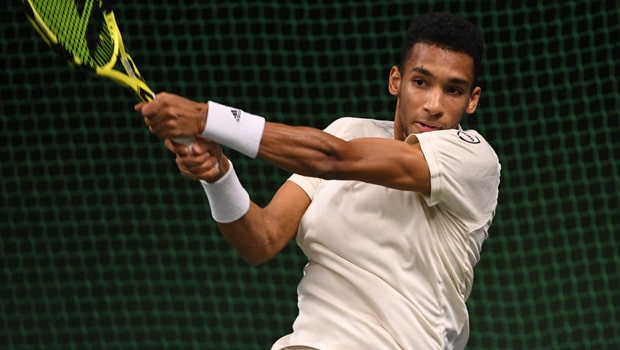 Canada's Tennis sensation Felix Auger-Aliassime was delighted after he breached the top 10 rankings for the first time in his career. The youngster stated it was one of his biggest goals of the year and he is happy he has ticked that box, which he wanted at the start of the season.
Felix has had an impressive run in the ongoing season as he qualified for the quarterfinals of Wimbledon but lost to Italy's Matteo Berrettini. The Canadian then improved his Grand slam run as he qualified for the semi-final of the US Open but his journey was ended by eventual winner Daniil Medvedev. Furthermore, he had qualified for the fourth round of the Australian Open 2021.
Thus, Felix has joined fellow Canadian players like Milos Raonic and Denis Shapovalov to break into the top 10 of the ATP rankings. Raonic had broken into the top 10 in 2013 while Shapovalov had done so in September 2020.
"It is very big," Auger-Aliassime told the ATP tour of the milestone. "It was one of my goals at the start of this year. I had to go from far as I was number 21 in the world. "So it wasn't a given that I would finish inside the top 10. It was also down to circumstances.
"But it's tennis, it is what it is. For my part, I'm happy with the progress that I have made this year and where my level is at. "I'm happy with this milestone is now behind me and I am a part of the top 10."
After Italy's young Tennis star Jannik Sinner dropped out of the top-10 ATP Rankings, Felix is now the youngest player in the top 10.
"It's always good to check off goals on my bucket list as a young player," Auger-Aliassime continued. "Of course, the top 100 for the first time, then I got rapidly into the top 20. For me, it was kind of like, 'When will the top 10 come? "Sometimes it goes fast, other times it takes longer than you think. But I'm happy this year I was able to make it, especially after the US Open I had, and also Wimbledon. "I felt like maybe, 'I've got a shot at this before the finishing the year.'"
Leave a comment