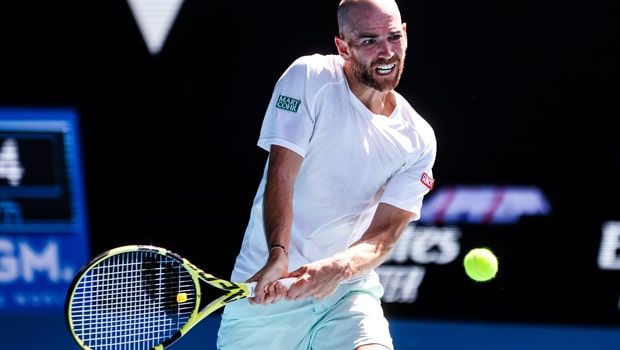 Tennis veteran Rafael Nadal made his way into the quarters of the ongoing Australian Open as he defeated France's Adrian Mannarino in straight sets by 7-6, 6-2, 6-2. Nadal had to battle hard in the tiebreaker which swung from one end to the other like a pendulum.
However, the Spaniard had the last laugh as he took the tiebreaker by 16-14 and he considers himself a bit lucky. In fact, the tiebreaker lasted for 28 minutes, 40 seconds as both of the players had their chances to take a 1-0 lead.
Nadal had to toil hard in the first set which lasted a total of 81 minutes but the Spaniard made the most of his experience to draw first blood. The World no.5 then took an early break in the next two sets while Mannarino struggled physically to cope with the pace of the game.
Nadal admitted that Mannarino's ball was very difficult to control as it was very fast as well as flat and feels he had the rub of the green on his side.
"His ball was very difficult to control, very flat, very fast," Nadal said of his opponent. "I'm very happy that I survived that first set, without a doubt."
In fact, Mannarino kept his cool in the first set and won some amazing points but he was put on the backfoot after he lost the opening set.
"The first set had been very, very emotional," Nadal told the crowd post-match. "Anything could happen there. I was a little bit lucky at the end.
"Everybody knows how mentally [tough] this game is. It was a tough one and after that crazy first set, I think it was so important the break at the beginning of the second set."
On the other hand, Nadal will face Canada's Denis Shapovalov in the quarterfinals. The Candian made it to his maiden Australian Open quarters after upsetting Germany's Alexander Zverev by 6-3, 7-6(5), 6-3 at Magaret Court.
"Shapovalov is a player with amazing potential," Nadal previewed. "Everybody knows that when he's playing well, it's very difficult to stop him with [his] big serve, amazing forehand, and very quick."
The two left-handers will face each other on Tuesday.
Leave a comment