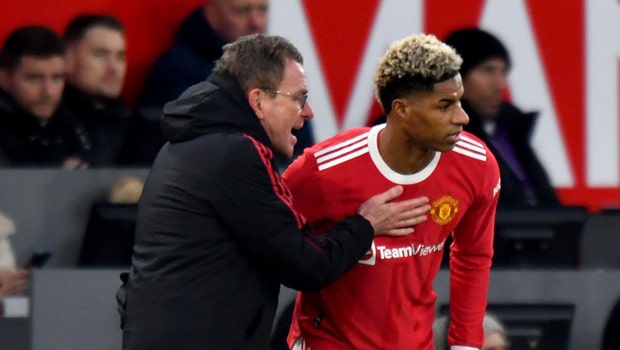 Manchester United interim manager Ralf Rangnick has heaped praise on Marcus Rashford. The German stated that Rashford has almost everything which a modern striker needs to be successful at the top level. Rashford scored a last-minute goal against West Ham at Old Trafford on Saturday to help his team bag three crucial points.
The youngster was able to find the back of the net in the stoppage time when Edison Cavani provided a perfect assist to him. Rashford just had to put the ball into the empty net and he didn't make any mistake.
In fact, Rashford had also scored in the team's previous 3-1 win over Brentford earlier in the week. Thus, Rashford has definitely impressed with his performances in the last few weeks and Rangnick is delighted for the youngster.
Ralf Rangnick said after the game, "He's one of the top strikers in England. He's an English international, who regularly played in the Euros and we all know what quality he has. He has almost everything a modern striker needs. He's got the pace, skills, he's got the size and physicality of a striker and in the end it's all about confidence for strikers."
He added: "I'm pretty sure that those two goals have raised the level of confidence within Marcus but now it's about taking steps, to show that on a regular basis. It's about continuity now and I think he can play a very important role for the rest of the season for us."
Meanwhile, Rashford has not been at his absolute best since the inception of the season but he has definitely turned the tables in the last few weeks as he is playing at the top of his game.
On the other hand, Manchester United had to toil hard for three points against West Ham but the Red Devils will be delighted to bag all the points on offer. The home side also dominated the possession with 57% and took a total of three shots on target.
Manchester United will next face Middlesbrough on 4th February in the fourth round of the FA Cup.
Leave a comment