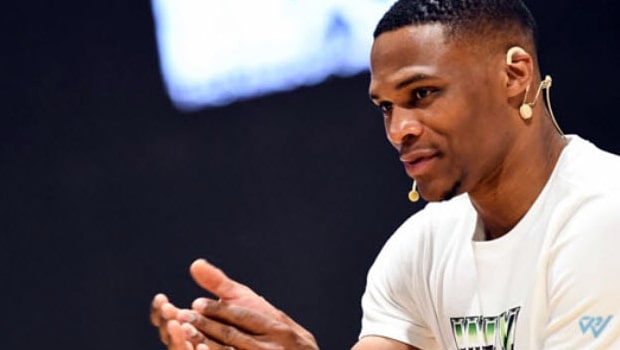 LA Lakers talisman Russell Westbrook has been under the scanner for his ordinary performances in the ongoing NBA 2021-22 season. Westbrook had earlier come under the scrutiny for conceding a lot of turnovers and then was criticized for his poor shooting accuracy.
Westbrook was also benched by Frank Vogel in the last 3:52 minutes against Indiana Pacers as the team lost by 101-104 on Wednesday. However, the linchpin bounced back stronger against Orlando Magic on Friday as the team won by 116-105 with LeBron James top-scoring with 29 points.
Westbrook also contributed to the win as he scored 18 points. Furthermore, he provided seven assists and 11 rebounds for the Lakers. The 33-year old veteran was delighted after he was able to contribute to the team's win.
"You read it. I said I was upset about it. More upset that we didn't win the game, that's the most important part, and after that, like I said, I've been here. I've been doing my job since Day One, and been doing everything that's been asked of me since I got here. I'll continue to do that for the betterment of the team."
"My job as a player, as a professional, is to do my job, continue to find ways to be able to help impact winning. That's all I was thinking about and turned the page to do and that's what I tried to do tonight."
On the other hand, the team's head coach Frank Vogel heaped praise on Russell Westbrook for making a solid comeback and said he is a high-character guy after Friday's performance.
Vogel said in the post-match interview as per Harrison Faigen (Editor in Chief at Silver Screen and Roll), "Russ is a high-character guy. We knew he was gonna respond. We communicated afterward to make sure that he understood what was going on, that we were just coaching to win the game and to turn the page onto Orlando. And he did a great job of maintaining that focus, and we're all committed to this group getting the job done."
LA Lakers will next face Miami Heat on Sunday.
Leave a comment