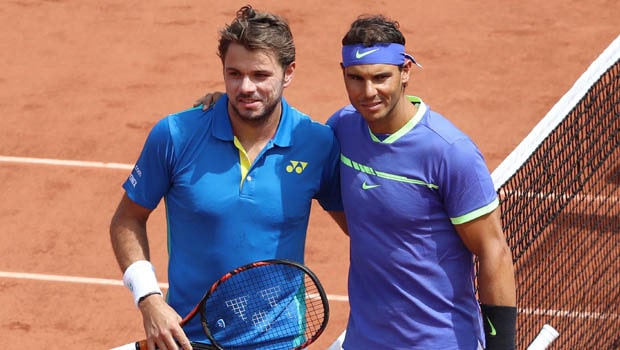 Stan Wawrinka has heaped praise on Rafael Nadal after the veteran player won his 21st Grand slam title. Nadal defeated Daniil Medvedev in the final of the Australian Open to win the record-breaking championship title despite being two sets down against the Russian.
In fact, Nadal had pulled out of the second half of 2021 due to a foot injury and not many must have expected him to go all the way in the Australian Open. However, Stan Wawrinka was not surprised when Nadal was able to create history.
Furthermore, Nadal was tested positive for Covid-19 before the Australian Open and there were a lot of doubts over his preparation. However, Nadal once again showed why he has been a champion player throughout his career and proved his mettle.
Thus, Nadal became only the second player in the Open Era to win every Grand slam title twice in his career after Novak Djokovic. The Spaniard was able to bring his best to the Australian Open and surprised one and all with his performances.
"Nadal has been out for four, five or six months almost every two years of his career, and whether the injuries were serious or not, he always managed to come back. "And once again at this stage and level, with the difficult last year that he had, of course, it's exceptional, just like all his career.
"Sometimes, I feel, tennis is all written in advance. Before Australian Open I was talking to my coach, Dani [Vallverdu] and we discussed that Nadal will win Australian Open, because everything is written," the Swiss claimed.
"He was doubtful but he's an exceptional champion. He has 21 Grand Slam, let's see if others and Novak [Djokovic] will win more or not. "It was brilliant to watch his win. I wasn't surprised but I admire that he is still able to do it and as I say I am not surprised because we know that he is well above everyone else.
"He's proved that he's able to do things throughout his career that others can't. "We saw what happened to Nadal last year, a year full of injuries and it would have been impossible to say he will win Australian Open last year. But his win is a bit similar to that Federer's in 2017 and he has written history," Wawrinka ended.
Rafael Nadal will face America's Reilly Opelka in the first round of the Mexican Open.
Leave a comment