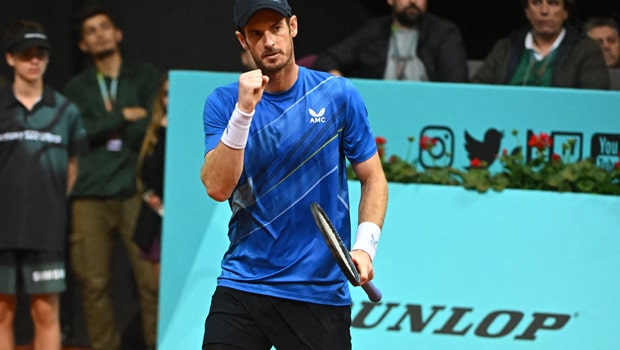 Former World no.1 Andy Murray has a fighting attitude on the court despite recovering from a hip injury, which almost ended his career. Murray has been trying hard to get the desired results under his belt but it has been tough going for him. The Briton defeated Canada's Denis Shapavolov by 6-1, 3-6, 6-2 in the Round of 32 at the Madrid Open on Tuesday.
Murray will now face World no. 1 Novak Djokovic in the Round of 16 and this will be their first meeting in five years. Both of these big players have had numerous battles on the court and have played each other in big major finals.
Thus, it is expected to be a blockbuster clash between these two veterans. As Djokovic hasn't played much in the ongoing season, Murray will fancy his chances against the Serbian. But Murray isn't expecting much of himself.
"In theory, I should have no chance in the match," Andy Murray said. "He's obviously number one in the world [and] I'm playing with a metal hip, so I shouldn't have a chance in the match.
Murray added that it is a great opportunity to test himself against the best and he will look to give his best against Djokovic.
"It's a great opportunity for me to see where my game's at and to play against him again. "We've had so many great battles over the years in some of the biggest tournaments in the world.
"We played in the final I think of all four Grand Slams, we played here in the final, and I haven't had that opportunity to play against him for a long time. "Didn't know if I ever would get that chance, so I'll enjoy it, I'll have a fantastic attitude in the match, give it my best and see where I'm at."
The Scottish player feels he has tremendously improved his game in 2022 after working hard and he is reaping rewards for the same. Murray had bested Dominic Thiem, who is making a return after a wrist injury, in the first round of the Madrid Open.
Speaking on his game against Shapavalov, "I trained very hard the past four or five weeks and got my game in good shape," Murray said. "My movement has been so much better than where it was at the beginning of the year and it makes a huge difference to my whole game. It allows me to make different decisions on the court.
"My movement won me that match tonight, I defended so many points. "He has so much power and I managed to defend lots of points and that won the match for me, so I was really happy with that."
Leave a comment