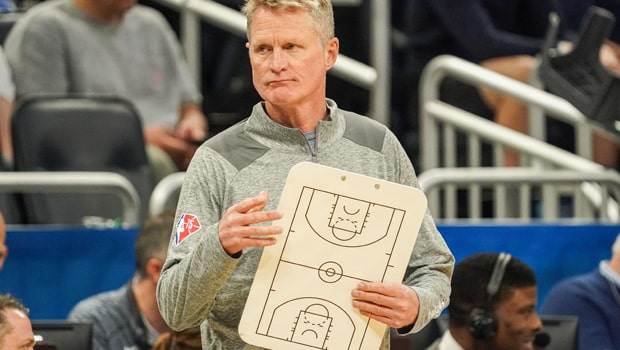 Golden State Warriors head coach Steve Kerr was livid after Memphis Grizzlies' Dillion Brooks was ejected for a flagrant 2 foul against Gary Payton II, which left the Dubs player with a broken elbow. Brooks was ejected after only three minutes were played in Game 2 of the Western Conference semifinals, which the Grizzlies won by 106-101.
Brooks was chasing Payton on a fastbreak layup from behind when nine minutes were remaining in the first quarter. Payton was taken to the floor and took some time to get up before Brooks was ejected for his dangerous play.
Payton underwent X-rays on his left elbow and the Warriors ruled him out. He will now undergo an MRI on Wednesday and the extent of the injury will be known after that.
Thus, Payton's injury is going to be a massive blow for the Dubs as he had done well in the recent past.
"I don't know if it was intentional, but it was dirty," Kerr said after the game. "There is a code. This code that players follow where you never put a guy's season [or] career in jeopardy by taking somebody out in mid-air and clubbing him across the head, ultimately fracturing Gary's elbow … He broke the code. Dillon Brooks broke the code."
Steph Curry added that it was out of line and everything bad which had to happen, did happen for them.
"It was kind of out of line in terms of a defenseless player going up for the layup and taking a huge wind up," Warriors guard Stephen Curry said. "Everything bad that could have happened in that situation did. Knocked him out of the game."
Meanwhile, Draymond Green, who was ejected in Game 1, had to face boos from the Memphis crowd when he was going to the dressing room for a check-up after ending up on a floor. But Green wasn't taking any of it.
"You gonna boo someone who was elbowed in the eye and face is running with blood, you should get flipped off," Green said. "I'll take the fine. I'll do an appearance and make up the money. It felt really good to flip them off … if they are going to be that nasty, I will be nasty, too. I'm assuming the cheers were because they know I'll be fined. Great — I make $25 million a year, I should be just fine."
Game 3 of the series between these two teams will be played on Saturday.
Leave a comment