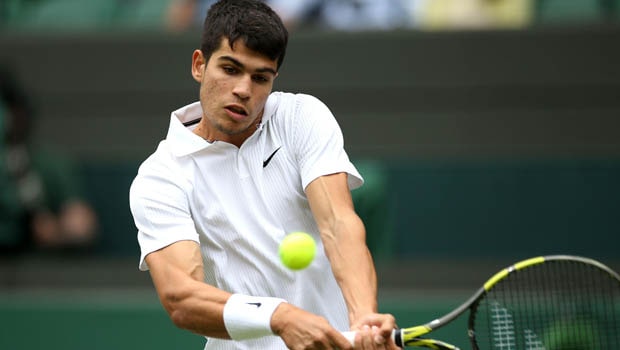 Rafael Nadal has showered praise on his countryman Carlos Alcaraz Garfia after he defeated him by 6-4, 4-6, 6-4 to enter the fifth Indian Wells final on Saturday. Nadal had to battle hard against the youngster but he was able to show his class once again.
Alcaraz made Nadal sweat hard for his win as the match lasted for three hours and 12 minutes. Nadal admitted that he treated the match like any other semifinal and he knew he would have his work cut out against the talented youngster.
Alcaraz was quick to stamp his authority as he broke Nadal's serve in the opening game of the match. However, Nadal bounced back stronger to take the first set by 6-4. Subsequently, the youngster broke Nadal's serve in the ninth game, which lasted for almost 20 minutes, in the second set.
However, Nadal broke Alcaraz's serve in the eighth game of the final set with a perfect volley winner and then held his serve to clinch the match.
"I am super happy to be in the final," Nadal said in his on-court interview. "It means a lot to me, and I'll just keep going."
"I took it like another semi-final match. He's not a young player that is 100 in the world and is coming. He is a top player already, so I treated it like that, playing against one of the best players in the world," Nadal said.
"It doesn't matter if he's young or not, he's a great guy, an amazing player and he has a fantastic future. I treated it like this, just tried to go on court, try my best and accept all the challenges. I am through and it was a very important victory for me."
Nadal has now extended his run to 20-0 in this season and he will look to continue his good show in the final. The Spaniard will face America's Taylor Fritz in the final of the BNP Paribas Open and he will aim to win his fourth title of the year.
Leave a comment