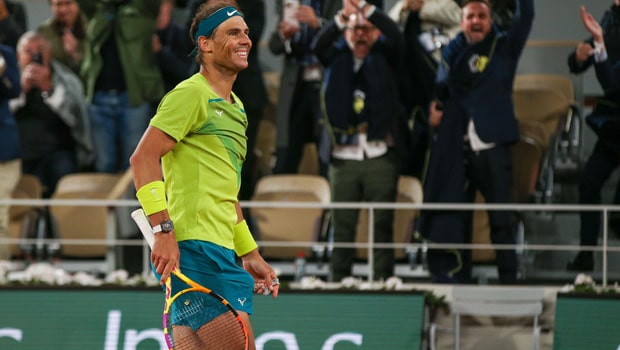 13-time French Open champion Rafael Nadal continued his dream run as he defeated Novak Djokovic, 6-2, 4-6, 6-2, 7-6 (4) in the quarterfinal of the ongoing Roland-Garros to book his ticket for the semifinal after a grueling contest. The second point of the match was 22 shots long and it was an indicator of how things will go.
Nadal was able to break Djokovic's serve in the opening game of the match as the Spaniard showed his dominance. The Serbian, on the other hand, was a bit circumspect in his approach as he didn't capitalize on the short balls and didn't attack them.
Nadal was 3-0 up in the second set but Djokovic was able to win four games in a row to make a comeback. The Serbian soon drew level but Nadal took a 2-1 lead by claiming the third set by 6-2.
"It has been a very emotional night for me. I'm still playing for nights like today," Nadal said in his post-match press conference. "But it's just a quarter-final match, no? So I didn't win anything. So I just [need to] give myself a chance to be back on court in two days, play another semifinals here in Roland Garros. [It] means a lot to me."
"Of course we have a lot of history together," Nadal added. "A lot of important moments playing against each other. That's the truth. In that case, [it] always is a special match, playing against Novak.
"Tonight [was] just a quarter-final match, not the final… But still a super classic match and in a big scenario. Between Novak, Roger [Federer], myself — we have an amazing story together facing each other in the most important matches for such a long time. So that makes things more special and more emotional."
On the other hand, Djokovic had his chances throughout the game but he could not grab them. World no.1 had two set points in the fourth set but he could not take them.
"He showed why he's a great champion," Djokovic said in press. "Staying there mentally tough and finishing the match the way he did. Congrats to him and his team. No doubt he deserved it."
There is no doubt Nadal will be a big favorite now as he knocked out Novak Djokovic. Furthermore, Carlos Alcaraz also lost his quarterfinal match against Alexander Zverev. Nadal and Zverev will meet in the semis on Thursday.
Leave a comment