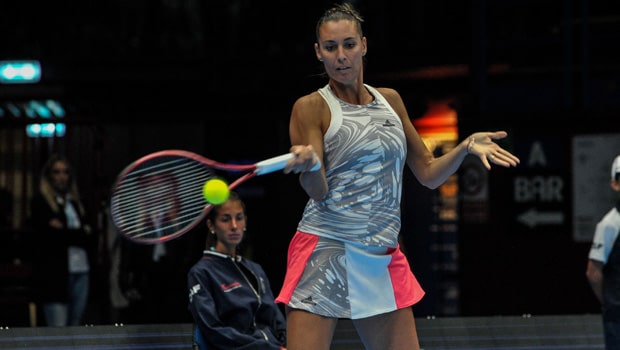 The entire world was mesmerised by the history created by Emma Raducanu who from being a qualifier triumphed to win the US Open after beating Leylah Fernandez in the finals. While a lot has been discussed about the British youngster and overall in general on Women's tennis, a lot of people have claimed that this would not have been possible in their era.
Recently former Italian tennis player Flavia Pennetta opened up on Raducanu's historic run to her first Major title. She highlighted how this would not have been possible during her era and also made some controversial statements about the women's game lately.
Pennetta is not a stranger to improbable triumphs during her career as she won the 2015 US Open.
In her recent interaction with the Italian newspaper Corriere della Sera, Pennette highlighted how the women's game was more competitive during her era.
"In my time it could never have happened that a young girl played from qualifying, like Emma Raducanu in New York, to win a Grand Slam," Pennetta said. "Top athletes made too much difference."
Ever since Serena Williams' inconsistent form and Simona Halep's injury, the women's game has not seen a proper successor who will dominate the scene for years to come. Naomi Osaka and Ashleigh Barty both have that capability but with Osaka's mental health issues and Barty's inconsistencies, they have really managed to stamp their authority on the entire scene.
Hence Pennetta feels that women's tennis lacks charisma and is difficult to sell. She also highlighted the discontinuity in the sport with new winners in every different event.
"There is something wrong," Pennetta declared. "Charisma is missing, so women's tennis is more difficult to sell."
"I don't like it," she continued. "What is happening, this very strong discontinuity, in my opinion is not good for tennis."
Raducanu is currently looking to hire a new coach after she decided to part ways with her former coach Andrew Richardson. She has recently featured at the BNP Paribas Open without a proper coach and suffered an early exit. While many are criticising the youngster for letting Richardson go, Raducanu has revealed that she is in search of more experienced personnel with the knowledge of the tour.
Leave a comment