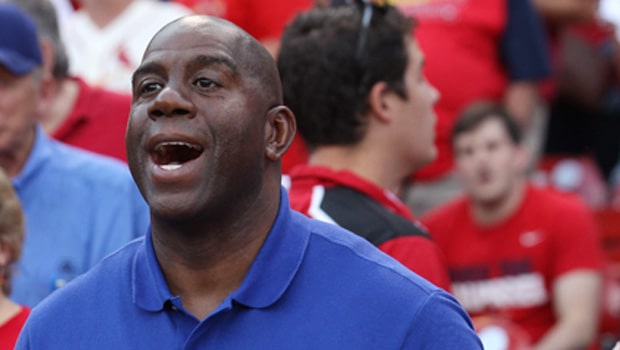 The Golden State Warriors are keen to make the most of this current season after they failed to reach the playoffs last season. They have shown good form in the preseason and has carried that into the regular season with a 121-114 win over the Los Angeles Lakers.
Steph Curry was on point with a triple-double but it was Jordan Poole who stole the show for the Warriors. However, the Lakers have not yet found form since making big changes to their roster this offseason. Frank Vogel's men are yet to find their chemistry on the court. Former Lakers legend Magic Johnson pointed out the areas which led to the defeat suffered by the Lakers.
Despite contrasting forms of both the teams in the preseason, the Lakers' defeat to the Warriors came as a shock to many fans and even experts. The Lakers started well and had the lead for most of the game. It was only in the fourth quarter when the Dubs managed to come back in the game eventually closed it out.
Magic Johnson came up with some advice after looking at their opening night defeat. He said, "First of all, patience, number one. Number two, we got to remember what happened last night. For three quarters, the Lakers played pretty good. LeBron and AD play like the superstars that they are. They just didn't get the help, right?"
Johnson highlighted how the Warriors played a lot faster than the Lakers in the last quarter. He also pointed out how Russell Westbrook was slow and seemed very nervous on his Lakers debut.
"Westbrook struggled because he was in first gear, the whole game. To me, LeBron played faster than Russell did. He's got to play fast to be effective. And I think he was nervous. First game in the Laker uniform, a young man from LA…" Magic further stated.
But if the Lakers want to succeed this season and eventually win the NBA title, they need Russell Westbrook at his best. Magic stated how Westbrook's contribution will be needed by the other two stars mainly on the scoreboard.
But one has to laud the Warriors for their brilliant win, Steph Curry has started the season pretty well with Jordan Poole firing in all cylinders. With Klay Thompson and James Wiseman all set to come back to the team, the Warriors will be a team to beat in the coming months.
Leave a comment