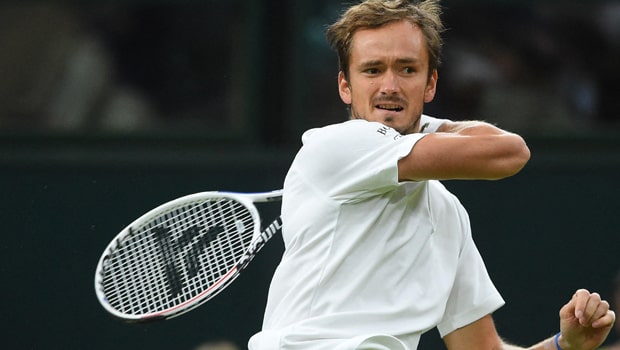 After winning the US Open, Daniil Medvedev is back in action for the Indian Wells. However, ahead of his third-round match, his opponent Filip Krajinovic has hailed the Russian as the best tennis player currently with hardly any weaknesses. The Serbian expressed his excitement to play Medvedev while lavishing a lot of praise on him.
The third-round match at the Indian Wells will be an exact repeat of the 2019 Indian Wells game where Krajinovic defeated Medvedev 6-3, 6-2. Coincidently just like that year, Medvedev defeated Mackenzie McDonald in the previous round this time as well.
But the Russian has grown a lot in stature in these two years and most people will back him to win over the 29-year-old. Apart from that, Medvedev is considered as one of the best players on the hardcourt alongside World No. 1, Novak Djokovic.
Krajinovic defeated Marcus Giron in the last round and before facing Medvedev, the Serb lavished praise on him and called him the best in the world. He feels that he has nothing to lose against the Russian and will play with a free mind.
"He (Daniil Medvedev) won the US Open, he is the best player in the world. I am very excited to play against him," Krajinovic said. "I have played against him a couple of times already, I know how he plays. For sure he is the favourite for that match, but I have nothing to lose, I will try to enjoy it."
It is true that Medvedev has elevated his game to the next level. He ended Novak Djokovic's dream run of achieving the Calendar Grand Slam by defeating him in the finals of the US Open. The Russian is in a great flow and it won't be easy for Krajinovic.
The Serb points out how the 25-year-old has grown leaps and bounds since 2019. He claims Medvedev to have no weakness in his game and hopes that he can keep up with the Russian.
"I think he (Daniil Medvedev) has improved a lot," Krajinovic said. "Physically he is much better. He is serving so well. I think it is tough to beat him as he has no weakness right now. But as I said, I have nothing to lose so I am going to step it up and play aggressively."
Leave a comment